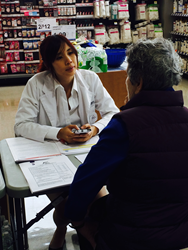 Broken bones rob adults of their freedom and independence. We can change that.
Oakland, CA (PRWEB) July 06, 2015
In a split second, breaking a bone can cause loss of freedom and independence. Adults can learn how to reduce their risk of having a fracture through the bone health screenings conducted by American Bone Health trained Peer Educators during the national Freedom From Fractures Awareness Day.
"We are participating because our residents need this information to remain independent and strong for many more years," according to Kristen Santangelo, Regional Vice President of Operations at Genesis Healthcare. "We hope that we can continue to help grow this important screening event."
The validated, web-based FORE Fracture Risk Calculator™ uses clinical factors and generates a graphic result of low, moderate, or high risk. Given the results, trained Peer Educators discuss manageable steps for the participants to take that gives them control over their future bone health.
Fracture risk screening events will occur in San Francisco, Philadelphia, Miami, Edison NJ, New York City, Long Island NY, Chester PA, Waterbury CT and Monterey CA on July 11, 2015 from 10-2 PM.
The event is made possible through the support of: Community Hospital of the Monterey Peninsula, Catholic Genesis Healthcare, Mission Pharmacal, Heritage at the Marina, Heritage at Clara Barton, Village at East Farms, The Palace of Miami, Catholic Health System of Long Island, The Sequoias of San Francisco, Chestnut Ridge, PowerBack Rehab, Agnovos and Inspired Opinions, by Schlesinger Associates.
"Inspired Opinions, by Schlesinger Associates, is thrilled to be supporting the Freedom From Fractures event for a second year in a row. Our partnership with American Bone Health allows us to continue efforts to advance research in bone health. People at high risk for fractures provide a wealth of knowledge by participating in ongoing research studies where they share their opinions and experiences," said Debby Schlesinger-Hellman, Executive Vice President at Schlesinger Associates.
For information on the locations or how to get involved, contact Chorkin Chau at American Bone Health.