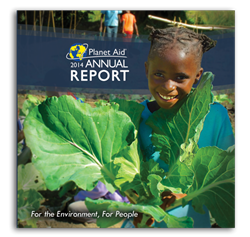 Elkridge, MD (PRWEB) June 26, 2015
Nonprofit Planet Aid released its Annual Report for the 2014 fiscal year. The organization collects and recycles used clothing and shoes, and uses the proceeds from its operation to support development projects in Africa, Asia, and the Americas.
Planet Aid collected more than 100 million pounds of textiles in the U.S. through its network of yellow dropoff bins, saving the same quantity of greenhouse gases from entering the atmosphere as would taking 80,000 cars off the highway. There are more than 20,000 bins conveniently placed throughout the country that make it easy for Americans to recycle clothes of any condition.
"Textiles have an immense carbon footprint because of the size and scope of the industry, the intensive use of energy in production and manufacturing, and the harmful gases released from decomposition after disposal," Planet Aid President Ester Neltrup wrote in the opening address. "With those kinds of consequences for our environment, it is shocking that the United States generates approximately 12 million tons of textile waste each year and that 85 percent of that waste is not recovered."
In addition to it's environmental work, Planet Aid also provided $11 million in support to sustainable development projects like Farmers' Clubs, Teacher Training, and Child Aid. The report describes the successes of these projects, which reached more than 2 million beneficiaries in 2014 alone, as well as charitable work in the United States.
Headquartered in Elkridge, MD, Planet Aid is a nonprofit organization whose mission is to inform, mobilize and inspire individuals and communities to work together to bring about worldwide environmental and social progress. Incorporated under the laws of Massachusetts and recognized as a tax-exempt charity under IRS code 501(c)(3), Planet Aid is registered with the U.S. Agency for International Development as a private voluntary organization (PVO). For more information on Planet Aid, visit Planetaid.org.