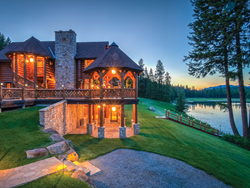 Cusic, WA (PRWEB) June 26, 2015
Representatives of Realogics Sotheby's International Realty (RSIR) based in Seattle, WA and Tomlinson Sotheby's International Realty (TSIR) based in Sandpoint, ID jointly announce their exclusive listing of Buck Quarter Ranch in the northeastern corner of Washington State. This 900-acre land portfolio is comprised of numerous contiguous parcels, a 150-acre private lake; a 12,000-SF custom log home; an 8,000-SF pool house and spa pavilion; several guest homes; an equestrian center; a rifle range; a maintenance shop; miles of trails; and a helipad. Offered for the first time at $11 million, Buck Quarter Ranch is the top listing in the region according to the NWMLS and it joins a collection of other significant farm and ranch listings in Washington and Idaho as brokers cite increased interest for alternative ranch estates in the region.
"Buck Quarter Ranch calls to a restless adventurer that wants to get away to it all," said Dean Jones, owner of RSIR who is listing the property with his Designated Broker Michael X. Ford. "The portfolio includes numerous parcels, buildings, equipment, vehicles and furnishings – it's immaculate and ready to enjoy immediately. The turnkey offering is being packaged for sale after more than two decades of thoughtful improvements manicured this rural ranch into the one of the most extraordinary lifestyle opportunities on the West Coast and it's available at a fraction of the cost of comparable estates in California, Colorado or Texas."
Ranchland broker specialists from each market agree and compare their top listings noting that Buck Quarter Ranch also benefits from an ample water supply, four season usability and no state income tax in Washington.
Suzanne Perkins of Sotheby's International Realty in Santa Barbara, CA listed Rancho San Carlos near town, which boasts 237 acres and is listed for $125 million. "These urban ranches are in a category of one and cannot be priced on a per acre basis," said Perkins. "They are trophy properties and they do sell. From a global perspective, I'd say Buck Quarter Ranch is a relative bargain."
Bill Fandel of Telluride Sotheby's International Realty recently listed a 298-acre retreat in the Rocky Mountains owned by actor Tom Cruise for $59 million. "A self-contained compound like Buck Quarter Ranch would be a most appealing offering to a high net-worth family or even a corporation to entertain VIP guests." said Fandel. "When I first saw the price I thought that there was a zero missing. I believe the inland Pacific Northwest offers a tremendous value proposition."
Bernie Uechtritz of Dallas-based Briggs Freeman Sotheby's International Realty refers to these ranches as the "super asset class" of properties. Uechtritz's top listing is one of the largest ranches in the US at 510,000 acres and is being offered at $725 million. "Larger land portfolios like these are valuable because they are difficult to assemble," said Uechtritz. "Land is precious – they're not making any more of it."
Recreational properties and second home ownership have been making a comeback in recent years now that US real estate values have rebounded, the stock market is high and consumers are confident. Foreign exchange hedging, a preference for investment diversification and trends for global citizenship have increased demand in the US – most notably by Chinese nationals. The National Association of Realtors released their latest report on international real estate investments for the 12-month period ending March 2015 and confirmed that China (including Hong Kong and Taiwan as a group) have now eclipsed Canada for the largest international buyer of US properties representing $28.6 billion.
"Real estate in the US is a blue chip investment that you can live in and enjoy," says Cindy Bond, owner of Tomlinson Sotheby's International Realty and the co-listing broker on Buck Quarter Ranch. "International money is descending on the US and the secret is getting out and about in our region along the Washington and Idaho border. While not as famous or expensive as established resort towns like Sun Valley, Vail or Montecito, we don't give up anything in terms of lifestyle – in fact owners are more likely to enjoy four seasons of activities and a rising tide in property values. Many celebrities and global citizens also prefer a lower profile – they want to experience star gazing in the sky and not at their front gate or in a restaurant."
As a resident of the Inland Pacific Northwest since 1995, Bond says the outdoor recreation around Buck Quarter Ranch is matchless with an ideal climate and an abundance of blue ribbon fishing, nature watching, hunting, boating, biking, hiking, climbing and equestrian activities. In the winter, snowmobiling, cross-country and downhill skiing are top attractions with nearby 40-Degrees North Mountain Resort and the world-class Schweitzer Mountain Resort (the largest ski resort in the Pacific Northwest), which offers 2,900 acres of renowned skiing that's as reliable as it is beautiful, overlooking Lake Pend Oreille.
"We are blessed to live in and to represent one of the most beautiful regions in the world," adds Bond. "Buck Quarter Ranch is an extraordinary opportunity to own a rather large piece of it."
For more information visit: http://www.BuckQuarterRanch.com.
###
About Realogics Sotheby's International Realty - Artfully uniting extraordinary homes with extraordinary lives, Realogics Sotheby's International Realty is a leading global sales and marketing brokerage firm in the Pacific Northwest. Recognized by the Puget Sound Business Journal amongst the fastest-growing private companies in Washington State for 2012, 2013 and 2014, the boutique real estate firm of 100+ brokers consistently ranks among the top producing firms within the markets that it serves with branches in downtown Seattle, Bainbridge Island, Kirkland and coming soon to Issaquah.
About Tomlinson Sotheby's International Realty – A leader in luxury throughout the Inland Pacific Northwest region, Tomlinson Sotheby's International Realty consistently represents the most significant property listings and sales and has played a primary role in exposing the lifestyle and value proposition when compared with other popular resort markets in the US. Established with leadership comprising more than 60 years of experience in the luxury market, Tomlinson Sotheby's International Realty, with its 70 agents, continues to out-sell local competitors year after year.
Editors Notes: For high-resolution photography contact Andrea Savage at 206.448.5752 or email Andrea(dot)Savage(at)RSIR(dot)com.