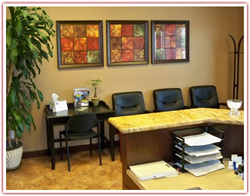 To see patients get results and have a healthier way of life is the best job in the world.
Gilbert, AZ (PRWEB) June 26, 2015
AZ Chiropractic is expanding their current service offerings to include a new branch of the office, called Physical Medicine of Arizona (AZPM). Dr. Mary Reker, a licensed naturopathic physician, will be running the new health and wellness programs, which include bioidentical hormone replacement therapy, allergy treatments, and weight loss programs. Dr. Reker uses the principles of naturopathic medicine to identify and treat the root cause of health conditions and restore natural health. AZPM will also offer trigger point injections for back pain, administered by Oscar Veloria, a nurse practitioner, who provides care from a traditional point of view. The new team will also include Dr. Drew Richetto, an experienced chiropractor, who will be joining Dr. Hirst in providing the same great chiropractic care already offered.
The AZ Chiropractic offices, located at 3570 S. Val Vista Drive, Suite #110 in Gilbert, AZ, have already been remodeled to include these new services. Massage therapy and laser hair removal will continue to be part of the total health and wellness programs.
Additionally, a new location of AZ Chiropractic is opening at 4575 E Cactus Rd #130 in Phoenix, AZ. Dr. Kevin Roach will be heading up this office, which will provide the same great services as the Gilbert location, including chiropractic care, physical therapy, and massage therapy. Dr. Drew Richetto and Dr. Colby joined the practice in April.
AZ Chiropractic was started by Dr. Tim Hirst in 2008 and the staff has provided top notch, quality care to people in Tempe, Mesa, Chandler, Gilbert, and Queen Creek. Dr. Hirst completed his undergraduate studies at Brigham Young University and earned his Doctorate Degree at University of Southern California Health Sciences. After graduate school, he worked at chiropractic clinics in Queen Creek and Chandler before deciding to open his own clinic. Dr. Hist says, "I love being a chiropractor. I get to help people every day. To see patients get results and have a healthier way of life is the best job in the world."
For more information on our new staff members and the extended services provided, please go to our website at http://www.az-chiropractic.com.
# # #
If you would like more information about AZ Chiropractic and Physical Medicine of Arizona or to schedule a consultation with Dr. Hirst, please call 817-845-1596 or email Melissa Perkins at melissa(at)910west(dot)com.