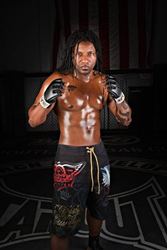 I have the best of both worlds right now... - Amer Abdallah
Lockport, NY (PRWEB) June 30, 2015
The WKA's Intercontinental Champion, Amer Abdallah, who's also ranked as the No. 2 kickboxer in the world, has brought on one of the biggest names in kickboxing today onto his training team.
Abdallah moved his training camp from his hometown of Lockport, N.Y. to Las Vegas, Nev. in Dec. 2014 and has been training there ever since. Having set up camp at the world famous Mayweather Boxing Club under head coach Jeff Mayweather, the duo decided to bring aboard another trainer to work on specific kicking techniques. They chose former two-time World Heavyweight Champion and K-1 superstar, Dewey "Black Kobra" Cooper.
Cooper, the first martial artist to train with Jeff Mayweather, is familiar with the Mayweather training style and has created numerous champions himself, having trained names such as Jessica Rakoczy and Beibut Shumenov. Cooper was inducted into the Martial Arts Hall of Fame in 2008.
"I feel very comfortable with Dewey and what he brings to the team," Abdallah said. "He's intense, specific and knows the kicking game better than anybody. Together with Jeff and Dewey, a world title is eminent God willing."
Pro Boxing Insider's Jody Kohn has also been around the Las Vegas fight scene for several years.
"Dewey has been around combat arts his entire life," Kohn said. "He's a legend in the Muay Thai circuit and there is very little he is not well versed in."
Team Abdallah has yet to announce plans for another fight, but are hinting toward one on Nov. 21 in Lockport, N.Y. Abdallah and Cooper are currently training in Las Vegas at the Mayweather Boxing Club and the Roy Jones Jr. Academy.
"I have the best of both worlds right now," Abdallah said. "A top-notch boxing trainer in Jeff Mayweather and elite kickboxing trainer in Dewey Cooper."
https://www.youtube.com/watch?v=okLTvip_oiA
For more information and to follow Lace Up Promotions and Kevin VanNostrand, follow them on Facebook at Lace Up Promotions or on their website http://www.LaceUpPromotions.com!