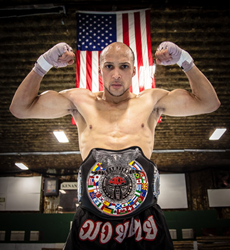 I knew this wasn't going to start slow...it's just not Kevin's Style.
Lockport, NY (PRWEB) June 26, 2015
He's dubbed "the most electrifying fighter of our time" and on June 13, Kevin VanNostrand reminded us why. Having turned professional in the sport of Muay Thai just 18 months ago, the Liverpool, N.Y. native made his mark on the kickboxing event dubbed "Supremacy" in Lockport, attaining the No. 1 ranking in the United States.
With just eight professional fights under his belt, the World Kickboxing Association authorized him to fight for the vacant WKA United States Full Rules Muay Thai title against veteran Justin Greskiewicz, the current WBC and WMC world champion. Greskiewicz, a Philadelphia native with more than 40 professional fights, was amongst the most respected names in the Muay Thai world, having fought some of the elite fighters from across the globe.
On June 13, VanNostrand and Greskiewicz met in Lockport N.Y. to battle for the coveted national No. 1 ranking. Ringside commentators and most critics expected a slow first round with both fighters measuring and feeling each other out before engaging in faster action.
"I knew this wasn't going to start slow," said VanNostrand's promoter, Amer Abdallah. "It's just not Kevin's style."
VanNostrand came out blazing with knees and elbows from the opening bell, landing an elbow flush on Greskiewicz's chin and opening a large gash. VanNostrand followed with a knee that sent Greskiewicz to the canvas. WKA referee Vinny Chapple immediately called a halt to the bout and had ringside physician Dr. Mikhail Strut examine the cut, which continued to bleed profusely. Initially, the bout was called off due to the extent of the cut, but Chapple allowed Greskiewicz's corner to stop the bleeding. After brief confusion regarding whether the bout would continue or not, Chapple allowed the two to reengage in battle.
VanNostrand picked back up where he left off with lunging knees and elbows, dropping Greskiewicz again to the canvas once again. The resilient Philly native beat the count and continued to attempt to nullify VanNostrand's unorthodox attack but was unable to do so. With less than one minute remaining in the round, Greskiewicz looked over at referee Vinny Chapple and said "I'm done." The bout was immediately stopped and VanNostrand declared the winner by first round TKO, giving him the No. 1 ranking in the United States.
"I can't explain how proud I am of this young man," Abdallah said. "Kevin VanNostrand has worked so hard to get where he is today and his potential for making a huge name for himself in this sport is huge."
A Sept. 26 bout in Syracuse has been confirmed as VanNostrand's next. With just nine professional bouts, a No. 1 U.S. ranking, and a streak that has never been seen before, VanNostrand is expected to take the Muay Thai world by storm.
VanNostrand had a stellar amateur career consisting of more than 15 fights. Almost all of them were won by knockout victory. He's fought Canadian champions, United States champions, and even world champions, defeating them all. He ended his amateur career with a No. 1 world ranking by the World Kickboxing Association after dismantling the previous world champion in just one round. Having claimed the highest title in the amateur ranks, Abdallah decided to turn him professional.
VanNostrand has fought on the world famous GLORY Kickboxing series, with the majority of his fights in N.Y. on Lace Up Promotions events.
"We are fortunate to be in a position to bring the best fighters from across the country to fight Kevin right here at home," Abdallah said. "Kevin is just getting started!"
For more information and to follow Lace Up Promotions and Kevin VanNostrand, follow them on Facebook at Lace Up Promotions or on their website http://www.LaceUpPromotions.com!