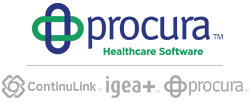 San Francisco, CA (PRWEB) June 28, 2015
Procura announced today that the company is now offering its popular Igea Medicare Direct Data Entry, Eligibility, and Electronic Data Interchange portals to the entire Home Care marketplace. The solution is designed to operate independently of an agency's EMR, providing an affordable and easy to use alternative to products on the market today.
"Our design of the portals permits any agency in the US to easily subscribe and start operating the solution. Existing Procura EMR customers as well as agencies that operate other EMRs now have a low-risk option that we believe is superior to other products that are on the market today in terms of accessibility and product licensing affordability," stated Chris Junker, CEO, "The low monthly subscription fee allows agencies to easily enroll, and the fact agencies don't have to consider EMR switching costs to use the solution makes adoption of the offering simple. We've been quietly testing this enrollment model over the past three months and have exceeded our expectations in terms of total customers subscribing to the system."
Home Care organizations of all sizes, from the large enterprise to the single-location operator now have access to the most convenient portals available to easily check claim status, verify eligibility, submit claims, receive ERAs, and perform related Medicare-EDI transactions.
The solutions offer unlimited users and eligibility checks and are available to Home Health agencies as well as to third party claims management and billing services organizations.
For more information regarding our DDE, Eligibility and EDI solutions, please visit http://igeasoftware.com/dde.
About Procura
Procura is the multinational software vendor of choice for home care, hospice, private duty, community care, pediatrics services, residential care and aged care organizations across the United States, Canada and Australia. Our software solutions: the ContinuLink Homecare Platform, the Procura Health Management System, Igea, Progresa Healthcare Systems, and the Procura PeoplePoint solutions in Australia, currently serves over 65,000 users at more than 3,000 customer sites, with over 229,000 employees providing care for 1.55 million individuals and managing 45,000 residential beds daily. Our customers include four of the five largest national providers of care in Canada, Kaiser Permanente and Interim HealthCare in the US, and we are one of the leading vendors of aged, disability, community and home care in Canada and Australia. Procura is headquartered in Victoria, BC and has offices in Chicago, IL; Boca Raton, FL; Sydney, NSW; Melbourne, VIC; and Brisbane, QLD. For more information visit http://www.procura.com.