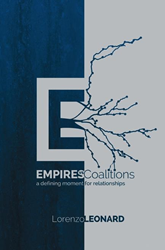 (PRWEB) July 08, 2015
When you look back at your life, are you happy with the relationship choices you made, or are there regrets? Lorenzo D. Leonard has written an extremely insightful book that looks at our relationships and what they mean.
The author considers it "A Defining Moment for Relationships" when we consider the guidelines that determine the difference between "Empires vs. Coalitions." This book draws a compelling comparison between relationships that function as an empire, versus relationships that represent a gathering of equals. Empire prototypes are based on accommodation, performance, and fear, and are easy to detect because there is a concentration of power that includes vision, authority, voice, passion, and intelligence restricted to one or a select few.
However, it is just the opposite with a coalition of equals, where the properties of integrity are highly valued: accountability, transparency, mutuality, and personal responsibility. For this reason, manufactured credibility is unreliable when compared to authentic credibility. In addition, we must take into account the effect of our biases when it comes to race, nationalism, politics, religion, and other diversities; thus contributing to the unreliability of manufactured credibility. We have all made good choices and bad ones with respect to relationships. The question needs to be asked: Do you want your life filled with interactions that are similar to an empire, or coalitions of equals?
EMPIRES VS. COALITIONS: A DEFINING MOMENT FOR RELATIONSHIPS (ISBN: 978-1-62857-016-8) is now available for $14.95 and can be ordered through the publisher's website:
http://www.sbprabooks.com/LorenzoLeonard or at Amazon.com or Barnesandnoble.com.
WHOLESALERS: This book is distributed by Ingram Books and other wholesale distributors. Contact your representative with the ISBN for purchase. Wholesale purchase for retailers, universities, libraries, and other organizations is also available through the publisher; please email bookorder@aeg-online-store.com
About the Author: Originally from Chicago, Lorenzo D. Leonard now resides in Seattle. Empires vs. Coalitions is his eighth book.