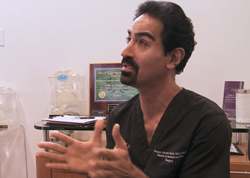 He explained why he believed that the fat transfer technique would produce a superior and safer result…
Los Angeles, CA (PRWEB) June 26, 2015
Fans of the MTV reality series, "True Life," were given some insight into the choices available to plastic surgery patients on the "I Hate My Butt" episode, which aired on May 26. An aspiring actress, Ashley was convinced that her small backside was preventing her from getting acting jobs in Hollywood and was generally embarrassed about its appearance. As she tells a sympathetic friend, "every time I take a belfie [a selfie from the back] I look like Spongebob Squarepants." Her urgent search for a better butt took her to the Beverly Hills offices of Payam Jarrah-Nejad, M.D., F.I.C.S., F.A.C.S., who has performed numerous examples of the procedure popularly known as the Brazilian Butt Lift. Dr. J, as he is known more casually to his patients, was happy to explain why he prefers fat transfer techniques over synthetic implants when it comes to enlarging and reshaping the buttocks.
Going over the areas of her backside that Ashley felt could use some work and other parts of her body that might benefit from liposuction, he explained why he believed that the fat transfer technique would produce a superior and safer result…even though Ashley reported being happy with some earlier breast implants. "With implants, they can get infected. They tend to move as you jog or walk or run," Dr. J said. "They are not going to give as nice an appearance as your breasts did."
At the same time, Dr. J had to admit that the process would be somewhat more challenging with Ashley, compared to other patients. "Fortunately or unfortunately, you just don't have that much fat," he explained, saying that it would be hard to predict before operating exactly how much would be available for sculpting the young woman's more ideal behind.
As it happens, Dr. J didn't get the chance to find out, because Ashley ultimately decided against having a procedure. However, Dr. J says that he is comfortable with that outcome. In the early stages of working with patients, a plastic surgeon's role is being primarily that of an educator. In order for patients to be happy with their procedures, they need to have realistic expectations. As long as the patient received accurate information in their initial consultation, Dr. J says that he considers that a job well done.
Prospective patients who might be interested in Brazilian butt lift or other procedure may wish to see the results enjoyed by others on Dr. J's plastic surgery Instagram page. To find out more about a free initial consultation, they can call 310-993-3800 or visit the doctor's website at http://www.DrJPlasticSurgery.com.