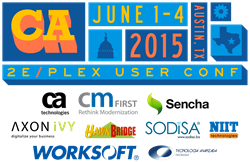 "Customer speakers really add value to the conference," said John Rhodes, CTO. "When developers get a chance to see the progress that can be made, it helps to convince the companies of the benefit of picking the right development partner."
Austin, TX (PRWEB) June 29, 2015
The just-concluded 7th CA 2E/Plex Worldwide Developer Conference drew application developers from around the world to a new site in Austin, TX. CM First CEO, Christoph Heinrich said, "CM First welcomed the opportunity to sponsor this event in the U.S. base for CM First. This conference offered customers the chance to meet with developers, learn about product capabilities and confer with other developers on common interests." The conference proceedings and videos are available on http://plex2e.com.
Always recognized as a high-value learning opportunity by CA Plex and CA 2E customers, this year's conference also offered some special features. A Spanish track allowed customer speakers to share knowledge in their native language. Lucio Gayosso, CM First developer, put together an English-language summary of these sessions – the best of the Spanish track. Diego Monge, with the PayClub division of Diners Club, explained how the company used CA Plex to create a modular web solution for credit card functions, with portions developed with CM WebClient. Alejandro Pora, Hospital Italiano de Buenos Aires, shared 20 years of experience with CA Plex and how the evolution of the product made program maintenance easier. Christian Jaramillo, TECNOAV, spoke on how the company protected development investments over time. He gave specific examples highlighting CA Plex and the architected rapid application development (ARAD) capabilities. Eric Giron, SODISA, demonstrated how SODISA was able to extend CM WebClient mobile applications to support social, cameras, geo-location, geo-coding and push notifications. Each application only had to be created once in CA Plex and then would work on the popular mobile device platforms.
Other customer speakers and customer stories attracted large audiences. Mark Schroeder, CM First CA 2E expert, spoke about how Intuition implemented CA 2E web services. Intuition provides state-based college savings solutions for 529 plans. The project integrated multiple systems, and the use of CA 2E API services made the resulting solution adaptable and easy to use. The talk highlighted ways to make projects of this kind successful. A second CM First Engineer, Jason Olson, led a full CA 2E session on tips and techniques for modernizing from legacy DB2 DDS access to IBM's recommended DB2 SQL access.
Jonathan Bolton, C & D Technologies, Inc., and John Rhodes, CM First CTO, led a session on modernizing CA 2E (Synon) model assets using the CM M3 modernization solution. C & D Technologies is a leader in producing lead-acid storage batteries for standby power applications. The project goal was to allow 3rd party maquila operators (logistics services) to ship goods internationally via the web, from a system originally developed in CA 2E in conjunction with the widely used Infor XA ERP package. CM First and C & D Technologies demonstrated the modernized system, which has been automatically transformed from a green screen 5250 terminal application (CA 2E RPG) to a browser based rich HTML5 application (CA Plex/CM WebClient/Java).The resulting system is hosted on a Tomcat web application server. CM First also demonstrated the replatforming capabilities of CM M3 and CA Plex, showing how 2E business logic can be easily re-platformed to alternative operating systems using targeting Java or C# .NET, and alternative database platforms like SQL Server or Oracle.
Rob McBride, United Heritage, spoke about leveraging customer templates in creating mobile and browser applications for the insurance space using CM WebClient. United Heritage presented at the last conference, speaking about the first mobile projects the company undertook. Learn more about the United Heritage story at: http://www.cmfirstgroup.com/wp-content/uploads/2013/08/United-Heritage-Success-Story-final.pdf
Copies of the presentations will be out on the website at: http://plex2e.com/conference/
Other highlights of the conference were the ever-popular 'Hackathon,' great keynote speakers, dynamically voted-on 'unconference' sessions and the CM First-sponsored 'Texas Evening on the Water' at Abel's on the Lake.
"Customer speakers really add value to the conference," said John Rhodes, CTO. "When developers get a chance to see the progress that can be made, it helps to convince the companies of the benefit of picking the right development partner."
To learn more about the CM First modernization solution, CM M3, go to: http://www.cmfirstgroup.com/initiatives/ca-2e-to-ca-plex/ To see how to get to mobile fast, go to: http://www.cmfirstgroup.com/initiatives/mobile-application-enablement/
About CM First Group
CM First is a global software and services company with focus on application modernization, custom development of enterprise applications that support high-performing, and agile development teams in three key areas: Application Modernization for IBM Environments, Custom Application Development Architected and Agile, Tools and Technology for Future Development.
Contacts
Europe Headquarters
+41 41 508 01 05
info(at)cmfirstgroup(dot)com
Americas Headquarters
+1-512-418-9802
infotech(at)cmfirstgroup(dot)com
France
+33 608 504 285
infofrance(at)cmfirstgroup(dot)com