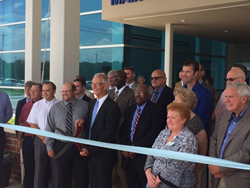 Their approach to construction management makes the owner's experience less stressful.
PINCKNEYVILLE, Ill. (PRWEB) June 28, 2015
Robins & Morton celebrated the completion of the new $26+ million Pinckneyville Community Hospital in Pinckneyville, Illinois, during a ribbon cutting ceremony on Sunday, June 14. Hundreds were on hand for the ceremony and guided tours, including Board members, hospital staff, local officials and community members.
The new, 83,000+ square-foot critical access hospital facility replaces the former 50-year-old hospital, preserving access to primary care, emergency care and hospital care for the Pinckneyville and the surrounding area. Designed by Gresham Smith and Partners, the 17-bed facility, has all private rooms. The layout provides patient friendly access to primary care, specialty clinics and outpatient services that are readily accessible off the front lobby. The new hospital also includes a larger emergency department with a trauma room and adjacent helipad.
"This is my second replacement hospital project with Robins Morton," said CEO, Tom Hudgins. "Both of my experiences have been handled in a professional and organized fashion. This organization allowed for the challenges that arose during construction to be addressed in a timely fashion that kept us on schedule. Their approach to construction management makes the owner's experience less stressful."
# # #
About Robins & Morton
Founded in 1946, Robins & Morton is a privately held engineering and construction firm that consistently ranks among the 100 largest U.S. contractors in Engineering News-Record Magazine. The company has also been named one of the best mid-sized companies to work for in America because of its worker-friendly and family-friendly practices. Robins & Morton is based in Birmingham, Ala., with offices in Dallas, Texas; Huntsville, Ala.; Orlando and Miami Fla.; Nashville, Tenn.; Charlotte and Raleigh-Durham, N.C. For more information, visit http://www.robinsmorton.com.