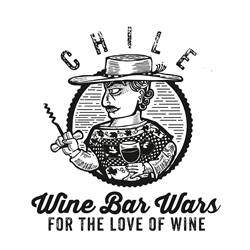 "These teams pour their hearts into bringing Chile to life through bar design and their selection of premium Chilean wine."
Miami, FL (PRWEB) June 29, 2015
The epic June 18th Wines of Chile Wine Bar War at The Moore Building yielded one winning team, but the true victor was the restaurant, wine and tourism trade in Miami – who turned out in record numbers. Wines of Chile, the Guild of Sommeliers, LATAM Airlines Group and Turismo Chile partnered for their second annual Wine Bar War, challenging four teams with four sommeliers each (16 in total), representing the greater Miami area's top sommeliers, to design and build a Chilean-inspired wine bar in one day for the chance to win a once in a lifetime trip to Chile in Premium Business class on LAN Airlines.
The one-of-a-kind competition required sommeliers to build a bar using 32 of Chile's finest wines, including at least 4 LAN Premium Business wines, and find design inspiration from one of four tourism destination within Chile, The North, The Central Valley, The Lakes and Volcanoes region and Patagonia. The final result was four Chilean inspired pop-up wine bars, showcasing Chile's unique and beautiful country.
Chosen by the Guild of Sommeliers, the four team captains were accomplished wine connoisseurs: Team 'Natural Roots,' was helmed by the Certified Sommelier of the Fontainebleau's Hakassan, Brian Grandison; Team 'El Huaso' was led by The Breakers Palm Beach Advanced Sommelier Greg Rivera; Uvaggio Wine Bar's managing partner Advanced Sommelier, Heath Porter, directed Team 'Fire and Ice' and Certified Sommelier at Michael's Genuine Food &Drink, Amanda Fraga, commanded Team 'Ungrafted.'
Bars were evaluated on wine selection and knowledge, service/hospitality, originality of concept and execution by a panel of accomplished judges: Geoff Kruth Chief Operating Officer Guild of Sommeliers; Ernesto Echeverry, Marketing Director of LATAM Airlines Group, USA, Canada and Caribbean; Ingrid Hoffman celebrity chef, author, and host of Top Chef Estrellas Telemundo; and Charlie Arturaola, Certified Sommelier and designated Chevalier by the Ordre des Coteaux de Champagnes, Wine Communicator of the Year at the IWSC, UK by VINITALY, and Confraria dos Vinhos do Porto.
"For the second year in a row this has been one of my favorite wine events. Not only do consumers who come out to the event have an incredible time but it is also a really innovative program for professionals. Just like a real restaurant, success was based on teamwork. This year's event coincided nicely with the Guild's new Expanded Guide to Chile, but how these 16 sommeliers creatively translated that knowledge into physical bars is what was so impressive to the local wine trade that attended," said Geoff Kruth, Chief Operating Officer Guild of Sommeliers.
The event hosted over 500 VIP trade guests and consumers who were asked also asked to vote. Both attendees and the judges' panel designated Brian Grandison's "Natural Roots Bar" as the winner, but 'El Huaso' was close behind as the runner up. Each pop-up bar featured at least one wine from LAN and TAM Airlines' 2015 Premium Business Class wine list, and the LAN Premium Business wine poured at "Natural Roots Bar' was Viña Maipo Protegido Cabernet Sauvignon, 2009. Their tourism destination was Chile's north and their design mimicked a miners' bar with shuttered windows looking out on the Elqui Valley – a destination renowned for wine and pisco production and it's unrivaled clear skies for star gazing.
"Elqui Valley is one of our must-see destinations in Chile, it was chosen by the New York Times among the places to visit this 2015. Its main attraction are the cloudless skies 300 days each year, which make for spectacular stargazing in the area, the world famous observatories like Tololo, La Silla, Mamalluca and Pangue, also the wines produced in this region are internationally very well known. Pisco – the typical liquor from Chile, is also been produced in Elqui Valley," adds Andrea Wolleter, General Manager for Chile Tourism Board.
Brian Grandison's team was awarded a once in a lifetime, all-expense paid trip to Chile, courtesy of LAN Airlines, part of LATAM Airlines Group, ProChile, Wines of Chile, and Turismo Chile – the Tourism Board for Chile. The champions will revel in their victory while enjoying the culinary culture and wineries of Chile in the country's most picturesque destinations. Grandison's team included Eric Larkee, of The Genuine Hospitality Group, Danny Toral of 50 Eggs and Kirsta Grauberger of Market 17 and Day Market Kitchen. The winning wine list featured of Concha Y Toro Marques 2013, Haras De Pirque Character Syrah 2012, Los Vascos Le Dix 2012, Mayu Pedro Ximenez 2014, Odfjell Orzada Carignan 2012, Veramonte Ritual Sauvignon Blanc 2014, Viña Maipo Protegido Cabernet Sauvignon 2009 and Viu Manent El Incidente Carmenere.
"Choosing a winner is never easy," said Marybeth Bentwood, Executive Director Wines of Chile, "These teams pour their hearts into bringing Chile to life through bar design and their selection of premium Chilean wine. While only one team can win the grand prize, all teams succeeded in creatively showcasing the best of Chile's wine and tourism. "The second annual Wine Bar War was a strategic platform for LATAM Airlines Group to showcase its unique in-flight wine offering and outstanding hospitality to a wide Miami audience. Guests were able to taste our award-winning Premium Business wine list, which includes a variety of fine Chilean wines," said Pablo Chiozza, Senior Vice President, USA, Canada and the Caribbean for LATAM Airlines Group. "As South America's largest airline group, we offer an unparalleled network of connections to, from and within the region, and we look forward to hosting the winning sommelier team, Natural Roots, and lucky sweepstakes winners on their upcoming trips to Chile and encourage Miami residents to think of us for future travels to South America."
A not so shabby consolation price of round-trip tickets to Chile was offered to the 'El Huaso' team for being the most social media savvy. Encouraging guests to follow the conversation, the team took to twitter, Instagram, Facebook and even LinkedIn using the @ElHuasoBar handle.
"#WineBarWar was a fantastic and unique way to learn about all aspects of Chile through a fun competition between our peers. Wines of Chile could have done your typical grand tasting to reach consumers and buyers, and six months later the wines would be forgotten. But #WineBarWar required constructing a wine bar with the collaboration of a team. We interactively discussed each wine and region in way that they will stick in our minds for years to come. Also requiring each team integrate a specific region into their bar design, ours being the Atacama Desert and the North, made us realize how geographically diverse Chile is as a country and how much it has to offer. After the fierce battle there is nothing more I want to do than to head to the North of Chile, stare at the stars and enjoy a glass of Mayu Pedro Ximenez," adds Brian Grandison of Hakkasan.
After having taken New York and Miami by storm, the Wine Bar War travels to the UK at the end of June for its inaugural European run. To find out more visit http://www.winebarwar.com.
###
About Wines of Chile
Wines of Chile is an organization committed to promoting the quality and image of Chilean wine throughout the world. It has offices in Santiago, London and New York, as well as representatives in Canada, Ireland and Denmark. Wines of Chile also works closely with ProChile to develop and offer promotional and educational programs in Asia, Latin America and Europe. Wines of Chile's 86 member wineries belong to Vinos de Chile and represent 88 percent of Chile's bottled wine exports.
About LATAM Airlines Group S.A.
LATAM Airlines Group S.A. is the new name given to LAN Airlines S.A. as a result of its association with TAM S.A. LATAM Airlines Group S.A. now includes LAN Airlines and its affiliates in Peru, Argentina, Colombia and Ecuador, and LAN Cargo and its affiliates, as well as TAM S.A. and its subsidiaries TAM Linhas Aereas S.A., including its business units TAM Transportes Aereos del Mercosur S.A., (TAM Airlines (Paraguay)) and Multiplus S.A. This association creates one of the largest airline groups in the world in terms of network connections, providing passenger transport services to about 135 destinations in 24 countries and cargo services to about 144 destinations in 26 countries, with a fleet of 314 aircraft. In total, LATAM Airlines Group S.A. has approximately 53,000 employees and its shares are traded in Santiago, as well as on the New York Stock Exchange, in the form of ADRs, and Sao Paulo Stock Exchange, in the form of BDRs.
Each airline will continue to operate under their current brands and identities. For any inquiry of LAN or TAM, please visit http://www.lan.com or http://www.tam.com.br, respectively. Further information at http://www.latamairlinesgroup.net
About ProChile
ProChile is the institution of the Ministry of Foreign Affairs of Chile in charge of promoting exports of products and services. ProChile contributes to dissemination of foreign investment opportunities and tourism promotion. ProChile has a network of over 50 offices worldwide and 15 Export Centers in Chile which have experience and tools to help boost the export sector and position Chile's attributes in international markets.
In a globalized world with highly competitive markets, ProChile, in its role as trade facilitator is able to provide to international consumers a wide range of products and services from the most diverse sectors. ProChile presents business opportunities to thousands of international buyers thus improving the quality of life for millions of people around the world.
Its economy, support to entrepreneurship, political stability, public security, ideal climatic conditions allow Chile to develop products and services with a unique quality in the region, which added to strict adherence to fair trade practices and sustainability, make our exports attractive with reliable suppliers and a high level of innovation. We are interested in identifying strategic partners, distributors, traders and consumers in international markets who see in Chilean products and services the opportunity to enhance their business strategies.
We invite you to get in touch with any of ProChile's 54 offices in the world, where you can organize business meeting schedules, get advice on the qualities of the Chilean productive and services sectors, as well as information on investment opportunities in Chile. Also, at the offices you can learn more about Chile´s wonderful tourist attractions.
About Chile Tourism Board
ChileTourism Board is a private non-profit entity, whose mission is to promote the Chilean tourism industry internationally. The institution combines public and private efforts to finance promotion around the world. Additional information about Chile's world-class tourism experiences is available at http://visit.chile.travel
Media Contact: Paula Antoniazzi, Paula(at)workshopcollective(dot)com, (305) 632-0868