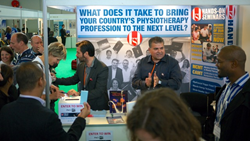 Manual therapy can make a great difference in patients' lives.
Astoria, NY (PRWEB) June 26, 2015
Hands-On Seminars, one of the largest international continuing education organizations for physical therapists and a world leader in manual therapy continuing education, announced a $100,000 scholarship program to promote manual therapy around the world.
"Prescription drugs and invasive procedures such a surgery are linked to many complications, poor outcomes and even death. Research shows that manual physical therapy offers the most cost effective treatment of pain and other musculoskeletal problems," noted Hands-On Seminars' co-founder Dr. Konstantine Rizopoulos.
A 2008 investigative report (1) published in the New York Times identified a significant and alarming increase in methadone prescriptions for the treatment of chronic pain of the spine. At the same time, the report suggests a shocking increase in methadone related deaths.
"The research points to manual physical therapy as a key answer to the problem," said Dr. Dimitrios Kostopoulos co-founder of Hands-On Seminars. "We are taking this initiative because we want to give the opportunity to physical therapists to expand their knowledge and expertise in manual therapy and this way they can make an even greater difference in the lives of their patients," continued Dr. Kostopoulos.
Research shows that the annual costs of low back pain in this country is more than we spend in foreign aid and almost as much as we spend on cancer treatment.
The scholarship will give the opportunity to one hundred applicants to receive a $1,000 scholarship credit toward courses and fellowships offered by Hands-On-Seminars around the world. Upon the completion of the program or course each scholarship recipient will be encouraged to utilize social and traditional media to describe their experience and the benefits of the manual therapy approach.
Application information can be found at https://www.surveymonkey.com/s/seminarscholarship
1 New York Times, August 16, 2008 http://www.nytimes.com/2008/08/17/us/17methadone.html