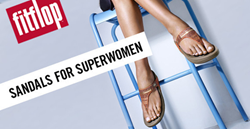 FitFlop shoes are rapidly growing in popularity, and we are happy to stock all of the new and exciting styles and colors this season.
Sunnyvale, CA (PRWEB) June 29, 2015
Footwear etc. is excited to display the newest arrivals from FitFlop. FitFlop sandals are not only designed to look good, these sandals are also built to make feet feel good. The ergonomic soles and biomechanical design all hidden behind a beautiful exterior is what keeps customers coming back to Footwear etc. for more.
A little more about FitFlops comfort technology: FitFlop footwear is known for its Microwobbleboard technology. This advanced technology helps diffuse pressure under the foot and provides outstanding shock absorption. It is composed of three different densities in the midsole, each of which has a distinct purpose: high density is in the heel for shock absorption, low density in the midsection to create instability in distributing pressure, and a mid density toe cap to increase stability. FitFlop shoes contain the APMA seal of Acceptance for their promotion of good foot health.
The Lulu Shimmersuede is among the new FitFlop sandals to show up in the 2015 summer line. This classically-styled flip flop pops with a sparkling upper. This casual yet timeless style is available in Bronze, Nude, or Black Suede at Footwear etc. stores and website (http://www.footwearetc.com).
A really fun and casual FitFlop sandal is the Cha Cha. It is a carnival-inspired thong style containing shiny, beaded, shimmery fringe on the upper. It is truly a fashion statement that customers will undoubtedly enjoy. It is available in Sapphire leather, Silver Suede, Black Leather, and Silver Nimbus Leather.
For customers who prefer a slide to a thong style, FitFlop has the Novy Slide. It is available in Black Suede with decorative metal stud accents for a dressy look. This slide is appropriate to wear with both casual and dressy attire, and provides all the comfort and style one would expect from a FitFlop shoe.
Conventional back-strap sandals are also part of the FitFlop line. The FitFlop Novy Backstrap is available in black suede, and contains decorative metal stud accents to lend an air of elegance to this shoe. Any customers who prefer a shoe that stays on their foot better would find this shoe to be a welcome addition to their wardrobes.
Sales and Operations Manager Andrew Monarch adds, "FitFlop shoes are rapidly growing in popularity, and we are happy to stock all of the new and exciting styles and colors this season."
Products from FitFlop are available in Footwear etc.'s retail stores as well as online at footwearetc.com.
About Footwear etc.:
Footwear etc. is a well-established, family-owned business, headquartered in Silicon Valley, CA since 1986. The company is committed to improving customers' quality of life by offering brand name products that demonstrate their belief in the need for healthful, comfortable and fashionable footwear. Footwear etc. operates eleven retail stores located throughout the Bay Area and San Diego, and also offers their products on their website and catalog. To find out more, please visit http://www.footwearetc.com.