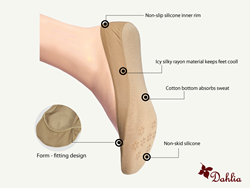 these no-show, form-fitting liner socks follow the feet's contours so closely that most wearers forget they have them on
New York, NY (PRWEB) June 30, 2015
Many women today face this dilemma when putting on their fashionable shoes: they can either go sockless and endure sweaty feet or wear the current crop of so called no-show socks which are still visible or constantly slipping/sliding/skidding, or are just plain uncomfortable.
Dahlia took this challenge, applied some high-fashion logic and successfully created a liner sock that truly doesn't show and won't slip, leading to comfortable all day performance. These new liner socks have proven to work for very low cut flats, loafers, dress shoes and heels. Tested at work, shopping and a night out, these liners stay in place and remain comfortable throughout.
Dahlia shares their no show socks' #1 secret – an industry-leading 3-dimensional design for their wearers' 3-dimensional feet. It seems simple, but many competitors' designs use a flat cut that relies solely on fabric stretch for fit, resulting in slipping, bunching and deep impressions on the feet after wearing. For their no-show liners, Dahlia's designers applied the same technique that tailors use to meticulously shape Red Carpet dresses and wedding gowns to their wearers: less stretch and more precision cuts. The result? A perfect fit. In fact, these no-show, form-fitting liner socks follow the foot's contours so closely that most wearers forget they have them on.
In another innovative touch, they use both rayon and cotton to shape their liner socks. Breathable, lightweight, and sweat absorbing, rayon delivers a silky luxurious fit and icy cool feel even on those hot summer days. Finally, smartly placed touches of silicone at the inner rim and sole eliminate slipping, sliding or skidding.
Dahlia has developed a collection of four liner socks to date for different situations. Crafted from soft rayon, the Ultra-Low Icy Silky Liners work for heat-sensitive wearers and have the lowest cut among the four to go with those low cut leather and suede shoes. The Ultra-Low All-Cotton Liner Socks reduce sweating and pair perfectly with canvas shoes. The Invisible-Seam Icy Silky Liners are for women who are seam-sensitive and prone to blisters. Finally, the designers added some sexiness into their assorted liner sets with the Low-Cut Lace Liner Socks which feature a chic lace for the lace lovers out there.
Now, all set for production, Dahlia launches this project on KickStarter. Backers are guaranteed to receive the first batch of these liner socks, and will also receive unique wash bags as gifts.
About Dahlia
Dahlia has over 20-years of expertise developing high quality and innovative products at exceptional prices. It has been one of the highest-rated brands at Amazon.com since 2005. Their designs have been featured by Modern Jeweler, National Jeweler, Lucky, Bridal Guide, Martha Stewart Weddings, etc. and some of their products are patented with the USPTO.