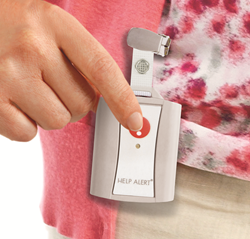 Help Alert has provided our teachers and staff with an effective means of immediately communicating their need for assistance.
Brookfield, Wis. (PRWEB) July 01, 2015
RF Technologies, a leading provider of active radio frequency identification (RFID) safety and security solutions, has partnered with WIU Crossroads School in safeguarding its staff and students with the use of Help Alert® Mobile Staff Duress Solution. The unique AEDY (Alternative Education for Disruptive Youth) environment of Crossroads School heightens the potential for disorderly or sometimes violent behavior that could require intervention by professionals trained in the de-escalation of disruptive and potentially dangerous episodes. By wearing mobile, wireless Help Alert pendants, staff can silently and discreetly summon immediate assistance in the event of verbal or physical conflicts, medical emergencies and/or other situations that require additional staff intervention–simply with the press of a panic button.
Help Alert allows quicker response, incident de-escalation
According to Nicholas Falcon, Principal of WIU Crossroads School, "Help Alert has provided our teachers and staff with an effective means of immediately communicating their need for assistance. Alerts yield a greater staff presence in areas experiencing conflict; therefore, students are deterred from inappropriate behavior." He added, "When we talk about logistically trying to communicate a need from a classroom, I would say we've cut that down to seconds where it used to be minutes."
Several mobile emergency call systems were evaluated by Crossroads School. Help Alert was selected because there was no need to add costly infrastructure. The solution utilized the school's existing Wi-Fi network and access points for location calculation. Help Alert's battery-powered, Wi-Fi based reference tags were added to supplement in areas where enhanced location accuracy was desirable. Working seamlessly within the school's existing Wi-Fi infrastructure, Help Alert was able to provide a high level of location accuracy.
Marina Willis, President of RF Technologies' PinPoint Business Unit, says, "Principal Falcon and others involved in the installation reported that Help Alert has been well received by the staff, students and parents. We at RF Technologies are excited to be a part of helping to create a safer, less stressful learning environment at WIU Crossroads School."
The Help Alert Staff Duress Solution at WIU Crossroads School was featured in an RFID Journal article. Read it here. Learn more about how the AEDY program at WIU Crossroads School benefits from using Help Alert Mobile Staff Duress.Click here for a copy of RF Technologies' WIU Crossroads School Case Study. Or visit RF Technologies at http://www.rft.com.
About RF Technologies
RF Technologies is a leading provider of wireless RFID and Wi-Fi RTLS safety and security solutions for healthcare, hospitality and education. The RF Technologies brands include Code Alert® wander management, Quick Response® wireless call, Safe Place® infant security, Sensatec® fall management, Help Alert® staff duress and ExacTrack® mobile asset management solutions. http://www.rft.com.
About WIU Crossroads School
Westmoreland Intermediate Unit (WIU) Crossroads School in Greensburg, Pennsylvania, provides an Alternative Education for Disruptive Youth (AEDY) program for students in grades 6-12 who are persistently disruptive or could benefit from intensive therapeutic emotional support in a substitute placement. http://www.wiu.k12.pa.us/Page/1