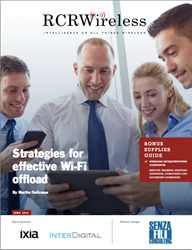 Wi-Fi represents a significant opportunity for regional operators, whether or not they have deployed LTE. - Martha DeGrasse, report author
Austin, Texas (PRWEB) June 29, 2015
RCR Wireless News is pleased to announce the publication of Strategies for Effective Wi-Fi Offload. By next year, mobile operators are expected to see more traffic offloaded to Wi-Fi than remains on cellular networks. This traffic becomes a lost opportunity if carriers do not understand and embrace Wi-Fi offload.
Strategies for Effective Wi-Fi Offload is a complimentary report that explores the reasons carriers are purposely moving customers onto Wi-Fi networks, instead of passively waiting for users to find and connect to Wi-Fi on their own. Analysts from Senza Fili Consulting, iGR Research, and Mobile Experts share insights on the emergence of Wi-Fi as a part of the heterogeneous networks that operators are creating.
Executives from Republic Wireless, Ixia, InterDigital, Aptilo Networks, Boingo, Cisco, Xirrus Alcatel-Lucent, Devicescape, Interop Technologies, and Smith Micro Software discuss specific challenges and opportunities that Wi-Fi offload presents for carriers. Topics addressed include handoffs from 3G and LTE to Wi-Fi, cloud-controlled Wi-Fi offload, voice-over-Wi-Fi, EAP-SIM authentication and security, 802.11ac, HotSpot 2.0, LTE-U and LWA.
Carrier perspectives
Each of the major U.S. carriers has taken a slightly different approach to Wi-Fi, and this report reviews their various strategies as well as those of the "Wi-Fi first" operators like Republic Wireless. The experience of select regional operators is also discussed, including the opportunity to use a shared IMS core to deploy voice-over-Wi-Fi.
"Wi-Fi represents a significant opportunity for regional operators, whether or not they have deployed LTE," said report author Martha DeGrasse. "As more and more devices support voice-over-Wi-Fi, regional operators will be able to use unlicensed spectrum to effectively broaden their coverage areas."
The role of network intelligence
Mobile operators need to understand the speed, capacity, security and reliability of Wi-Fi networks as they offload traffic. In addition, understanding when and where users are moving to Wi-Fi helps operators evaluate the performance of the cellular network. Device-based software, network software and cloud-based solutions all play a role in enabling intelligent offload.
Service providers are also using intelligence about user activity on Wi-Fi networks to enhance the value of Wi-Fi-as-a-service for enterprise customers. Enterprises want to know who is using their Wi-Fi, and many of them want to know when and where usage is heaviest so that they can market to customers in real time.
List of topics covered in this report:

Moving customers off the cellular network: knowing when and where to offload traffic
Authentication, handovers and security
Definition of carrier-grade Wi-Fi
Testing to insure quality of service
The FCC's potential role in defining standards for LTE in unlicensed spectrum
Combining Wi-Fi and LTE
Accompanying webinar
This report is accompanied by a complimentary webinar featuring analyst Monica Paolini of Senza Fili Consulting. Republic Wireless's Jon Schniepp, Ixia's Sean Baioni, Robert Gazda of InterDigital Communications, and Martha DeGrasse of RCR Wireless News.
Click here to download the 'Strategies for Effective Wi-Fi Offload' Feature Report
About RCR Wireless News
Since 1982, RCR Wireless News has been providing wireless and mobile industry news, insights, and analysis to industry and enterprise professionals, decision makers, policy makers, analysts and investors. Our mission is to connect, globally and locally, mobile technology professionals and companies online, in person, and now on video. Our dedication to editorial excellence coupled with one of the industry's most comprehensive industry databases and digital networks leads readers and advertisers to consistently choose RCR Wireless News over other industry publications. http://www.rcrwireless.com