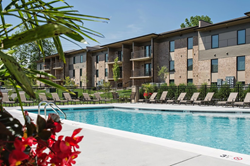 The customer comes first, and we wanted them to be able to quickly and easily find exactly what they're looking for when they visit our website -- from any platform.
Lexington, KY (PRWEB) June 28, 2015
Recognizing how cumbersome it is to try to navigate through a website that is not mobile-friendly from your phone or tablet, Lakewood Park Apartment Homes has created a version of their website that is designed to provide increased mobile functionality. The complex's operator, Andover Management Group, is pleased to offer this high-quality service, sparing prospective and current residents from the frustrating experience that can come with trying to use mobile devices to access a website designed only for desktops.
Intended for touch interfaces as well as mouse clicks, the new site boasts a responsive design that enables users to quickly and easily find the information that they need. The improved interactive experience features a simple list menu to choose what category a user is interested in, and each one delves a bit farther into specific subjects. The headings are grouped under "About Lakewood Park," "Our Amenities," "Photos & Video," "Floor Plans," "Relocation," "Local Area: Lexington, KY," "Talk to Us" and "Welcome to Our Apartments."
Featuring easy-to-click links that are separated from text and with easy-to-see call-to-action buttons, the site is optimized for use on smartphones and tablets. To ensure that the site will render properly on mobile devices, there are just enough pages to be informative without making navigation feel too clunky. Andover Management Group acknowledges that reading a lot of text is not always a viable option for mobile users, especially if they are looking for fast information. Those in a hurry can find specific information by using the search function available on the top banner of every page and can call the Lakewood Park leasing office by clicking a large, push-to-call button. The redesigned mobile site also has easy-to-find buttons connected to Facebook, Google Plus and Twitter for anyone interested in following the complex on social media.
Manager Brad Rose says, "The customer comes first, and we wanted them to be able to quickly and easily find exactly what they're looking for when they visit our website -- from any platform. These days, our first interaction with a potential tenant is overwhelmingly likely to be online, and we want people to feel welcome in our amazing community from their first experience with us. We are hopeful that once they view our site, they will want to come and see for themselves all the wonderful things that living here has to offer."
Located in the popular Lakeview Estates neighborhood, Lakewood Park features a lakeside setting and landscaped exterior, along with contemporary architecture and light-filled interiors. Units come with washer/dryer connections, window coverings, ceiling fans, dishwashers and broadband internet access, and some units include private patios or balconies. One-, two- and three-bedroom units are available in three floor plans, ranging in size from 936 square feet to 1400 square feet. The complex also prides itself on having community walking trails, an outdoor swimming pool, a fitness center and lake access, all conveniently located around the corner from shopping, dining, downtown and UK's campus. Best of all, most pets are welcome!