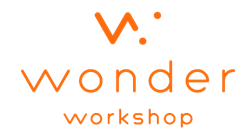 Using Blocky and Dash & Dot, teachers are empowered to bring coding skills into their classroom while addressing Common Core math or ELA standards.
San Mateo, Calif. (PRWEB) June 29, 2015
According to projections from the Bureau of Labor Statistics, 1 million high-paying computer science jobs could go unfilled within the next five years due to a dearth of qualified graduates. But the task of preparing today's students for tomorrow's coding careers is a daunting one. Starting today, Wonder Workshop, creators of smart robots that teach students the basics of coding, is launching 21 comprehensive lesson plans designed to make coding instruction more approachable for K-5 teachers.
The standards-aligned, teacher-friendly curricula supplement instruction in core subject areas, such as math, science, English language arts (ELA), coding and more. The classroom-tested lesson plans are available through a teachers' portal, which Wonder Workshop created to inspire collaboration among educators who bring lessons to life with Dash & Dot robots.
"Coding integrates communication and teamwork skills, as well as logical and algorithmic thinking – skills that are critical for the 21st-century workforce and the modern world," said Michelle Eckstein, elementary technology teacher at Peak to Peak Charter School in Lafayette, Colorado. "But teachers often find it hard to take class time to teach coding unless the lesson plans align directly to the required standards. Using Blocky and Dash & Dot, teachers are empowered to bring coding skills into their classroom while addressing Common Core math or ELA standards."
Wonder Workshop is also bringing teachers together top collaborate and develop their own creative, results-oriented lesson plans. Through the portal, educators can test out, rate and provide constructive feedback on existing lessons, as well as submit new ones. In addition, the portal features an interactive school map, allowing educators to reference nearby schools that use Dash & Dot, and a forum where teachers nationwide can come together and share how robots are transforming the classroom.
"Integrating coding tools into the classroom can be daunting without the right resources for teachers," said Vikas Gupta, co-founder and CEO of Wonder Workshop. "Our teachers' portal will help guide educators through standards-aligned lesson plans, and empower a grassroots community of Dash & Dot enthusiasts to share its expertise."
Dash & Dot are robots with personality and capability. Students use four different touch applications to program the robots to detect the environment around them using sensors, and respond with motion, sound and expressions. Preassembled and designed for ease of use, Dash & Dot allow educators to seamlessly add coding into the curriculum. More than 300 schools have already introduced Dash & Dot to their classrooms to help cultivate 21st-century skills.
For more information on the Wonder Workshop teachers' portal, visit http://www.makewonder.com/teachers.
For press materials, please visit: https://www.makewonder.com/mediakit.
About Dash & Dot
Dash & Dot are smart robots for curious minds! Targeted at teaching creative problem-solving and computational thinking, Dash & Dot help students learn fundamental cognitive processes relevant to all 21st-century skills that they'll carry on throughout life.
Students can define how they want to play – whether solo, in pairs or in small groups. Dash & Dot are characters that ignite curiosity and confidence while providing fun and engaging ways of learning the essential skills of collaboration, communication and digital literacy. Teachers are using Dash & Dot to teach a variety of subjects, including math, science, social studies and English language arts.
Dash & Dot come with four free apps enabling students to explore a variety of learning experiences at different levels depending on their age and ability. Wonder Workshop accessories from Dash's Xylophone to Building Brick Connectors (including LEGO™) bring endless creative possibilities, plus students can involve their existing resources around the classroom into the fun. The apps are compatible with more than 20 iOS and Android devices, including the iPad 3, iPad mini, iPad Air 1 & 2 and a variety of Nexus and Samsung Galaxy devices.
About Wonder Workshop
Wonder Workshop launched Dash & Dot in December 2014 and within its first month, delivered more than $3.5M in robots to 37 countries including the U.S., Canada, Australia, New Zealand, European countries, India, Japan, Taiwan, Singapore and Hong Kong. Based in San Mateo, CA, Wonder Workshop was founded in 2012 by Vikas Gupta, Saurabh Gupta and Mikal Greaves, inventors, designers, programmers and parents with the mission to make coding a new creative tool that is accessible for children from age five and beyond. The company has currently raised $15.9 million in funding from Madrona Venture Group, CRV, WI Harper, Google Ventures, Bright Success Capital, Maven Ventures, Vikas Gupta, Reza Hussein and Jeff Schox. For more information, visit http://www.makewonder.com.