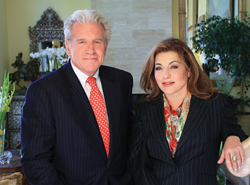 They listen carefully, understand the importance of market timing and command respect among all agents and brokers.
San Francisco, Calif. (PRWEB) June 26, 2015
Lydia Sarkissian and Bill Bullock of Decker Bullock Sotheby's International Realty, Inc. were today named the 102nd real estate team in the nation by sales volume and the 31st by average sales price in The Thousand, an annual ranking released by The Wall Street Journal and REAL Trends. Sarkissian and Bullock achieved a high ranking on this list based on their team's sales volume in 2014, $120,147,500, and average sale price, $4,805,900.
"We are thrilled to be on this prestigious list, and to be considered one of the top real estate teams in the nation," said Lydia Sarkissian. "It is truly an honor to be acknowledged by such a respected and competitive ranking."
Sarkissian and Bullock are the #1 real estate team in Marin County, one of the most coveted real estate markets in the world, and have represented CEOs and celebrities in the buying and selling of luxury residential properties in this highly sought-after area for decades. Since forming their partnership in 1997, they have combined sales of nearly $2 billion in closed real estate transactions.
Sarkissian and Bullock attribute their success as a team to their commitment to mutual respect and an ability to set egos aside.
"We extend that same respect to our clients," Sarkissian said. "We are extremely discreet and sensitive to their privacy and confidentiality."
Clients say the team's knowledge of the market, incredible international, national and local reach, professionalism, exquisite taste, and sound advice are unsurpassed.
"They listen carefully, understand the importance of market timing and command respect among all agents and brokers," said Sara Mauer, one of their clients. "Lydia's enthusiastic, warm personality is a perfect blend with Bill's quiet and authoritative gravitas. Together they are a remarkable team."
Sarkissian and Bullock serve the most discerning of buyers worldwide and focus exclusively on the upper end of the luxury real estate market in Marin County. Their team's listings consistently represent the widest inventory of luxury homes on the market.
"We sincerely strive to provide an unparalleled level of dedication, experience and service to our clients, and it's really rewarding to be recognized for our hard work and diligence in this way," said Bill Bullock, "Our goal is to provide the most comprehensive and effective marketing programs in the industry, in order to attract the right high-end buyers worldwide, and this ranking demonstrates that we are succeeding in doing just that."
The Thousand Top Real Estate Professionals list was published on June 26 on REAL Trends' website, http://www.realtrends.com. For more information about Sarkissian and Bullock, visit globalestates.com.
About Decker Bullock Sotheby's International Realty, Inc.
Decker Bullock Sotheby's International Realty (deckerbullocksir.com) is recognized in Marin County for selling the most exclusive homes at a spectrum of price points using an advanced marketing platform with a global reach. The brokerage continues to show impressive expansion, adding to the already existing nine offices mindfully placed in premier locations of Marin County.
###