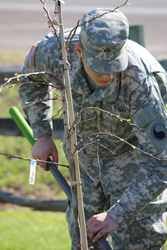 Waterford, VA (PRWEB) August 03, 2015
At its tenth anniversary annual conference, the Journey Through Hallowed Ground Partnership (JTHG Partnership) presented the 2015 Cornelia "Neil" Flagg Keller Champion of the Year Award to the 116th Infantry Brigade Combat Team of the Virginia Army National Guard.
The 116th Infantry descended from the 1741 Augusta County Regiment, a group of colonists from present-day Staunton, Virginia, and became immortalized as the Stonewall Brigade for being a descending unit of General Thomas "Stonewall" Jackson's brigade during the Civil War. The 116th was therefore the only Confederate brigade designation to be recognized by the United States Army. During both World Wars, the 116th played key roles in trench warfare and planning important invasions and battles. During World War I, three other small infantry regiments joined together to create the 116th, and during World War II, it was a key player in the famous D-Day Invasion, as over 800 men were killed, wounded, or missing in combat
In April 2015, the 116h Infantry assisted in the annual Living Legacy Tree Project Planting in which over 200 Rising Sun Redbuds were planted at the Inn at Meander Plantation in Locust Dale, Virginia. The choice of location was symbolic because Stonewall Jackson's troops had crossed that very property en-route to the Battle of Cedar Mountain just 152 years earlier. Planting these trees in honor of unknown soldiers of the war brought the respect and honor they deserve for their sacrifices on both sides.
The award is named for the late Cornelia Keller as a way to pay tribute and honor one of the organization's greatest champions, advocates, and supporters. Considered by many as a co-founder of the organization, she made it her mission to shift the axis of contemporary assumptions about conservation and historic preservation. For seven years, she served on the JTHG Partnership's National Advisory Board. Under her leadership a very ambitious business plan was developed which included seeking Congressional designation of the region as a National Heritage Area and the road that ties the region together a National Scenic Byway. Perhaps more importantly, Keller's background as a former teacher and passion for engaging children were instrumental in the development of innovative educational programs for students and teachers, including the Extreme Journey Summer Camps and the "Of the Student, By the Student For the Student" service learning program. Both of these programs have won national awards for groundbreaking achievements and both are being used as national models for schools around the country.
The Journey Through Hallowed Ground Partnership presents this award annually at its annual conference to an outstanding advocate and partner engaged in one or more of the organization's programs. For more information about The Journey Through Hallowed Ground, visit http://www.HallowedGround.org.