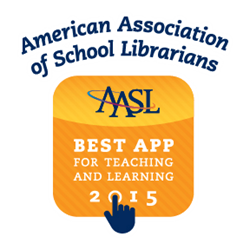 While we have seen Buncee for EDU used as a tool for content creation and digital storytelling across the country, knowing that we met the AASL's Standards for the 21st - Century Learning is truly validating. - Marie Arturi, Founder & CEO Buncee LLC
Calverton, New York (PRWEB) June 29, 2015
Buncee® LLC's iPad app Buncee for EDU, a content creation and digital storytelling app, was recognized by the American Association of School Librarians (AASL) as one of the 2015 Best Apps for Teaching & Learning at the 2015 American Library Association Annual Conference on June 27, 2015. The list of 25 apps is a respected technology resource for school librarians and educators, each app having been selected for its exemplification of the AASL's learning standards and for its ability to aid in career and college readiness.
"We are honored that such an impressive organization chose Buncee for EDU as one of the year's best apps for teaching and learning," said Marie Arturi, Founder and CEO of Buncee LLC. She added, "While we have seen Buncee for EDU successfully used as a tool for content creation and digital storytelling across the country, knowing that we met the AASL's Standards for the 21st - Century Learning is truly validating."
The 2015 Best Apps for Teaching and Learning list is based on feedback and nominations from AASL members, educators, developers, and students. The list is not only a resource for school librarians; it is also beneficial to parents and teachers in search of the best educational apps for their children and classrooms. Listed along with Buncee for EDU in the content creation category are Adobe Voice, Pixel Press Floors, Glogster, and Lego Movie Maker.
Heather Lister, middle school teacher-librarian in Pennsylvania's Derry Township School District, says, "Buncee for EDU makes it easy and fun for students to create their very own original content. Our students love to use the app's functionality to create stories and demonstrate their knowledge, all the while thinking critically and sharing their knowledge with peers."
As a content creation tool and literacy app, Buncee for EDU is being used in thousands of schools across the country. The AASL award recognizes Buncee for EDU as a tool to foster innovation, creativity, active participation, and collaboration.
About buncee:
Buncee® provides an easy to use creation canvas on edu.buncee.com for students and teachers alike. Buncee's intuitive creation canvas, media tools, and vast library of graphics allow students to strengthen their creativity and present their ideas, all while improving digital literacy. The classroom dashboard of a bunceeEDU Plus account provides teachers with the opportunity to easily flip their classrooms and share lessons and assignments for students to view at home. Additionally, with the student grouping functionality of the classroom dashboard, differentiated learning is made simple. For more information, visit http://www.edu.buncee.com.