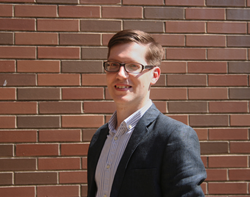 Dayton, Ohio (PRWEB) June 29, 2015
United Theological Seminary is pleased to welcome new faculty member Justus H. Hunter, who will begin his teaching duties on July 1, 2015. Hunter, Assistant Professor of Church History, is currently a Ph.D. candidate at Southern Methodist University, and anticipates completing his doctoral studies this summer. He completed Bachelor of Arts and Master of Divinity degrees at Asbury Theological Seminary, and a Master of Arts at the University of Dayton.
Hunter teaches church history and theology. His research and teaching interests include medieval theology, scholasticism, doctrine of God and Christology. His work has appeared in the journals "Ecclesiology" and "Wesleyan Theological Journal," as well as the "T&T Clark Companion to Reformation Theology" (Bloomsbury, 2012) and "The Encyclopedia of Christianity in the United States" (Rowman & Littlefield, forthcoming). He is a lay member of The United Methodist Church.
United also welcomes Presian R. Burroughs, Assistant Professor of New Testament, as an on-campus faculty member. For the last year, she has served as an online instructor for United's distance education programs. She received Doctor of Theology and Master of Divinity degrees from Duke Divinity School. Her research interests include the New Testament, the Pauline epistles, theological interpretation of the Bible and ecological theology. She was a contributor to "Generation Rising: A Future with Hope for the United Methodist Church," edited by Andrew Thompson (Abingdon, 2011), and has published in "Horizons in Biblical Theology," "Christian Reflection" and "Interpretation." Burroughs is a John Wesley Fellow, a member of the Society of Biblical Literature and a lay member of The United Methodist Church.
United Theological Seminary is a graduate professional school of The United Methodist Church offering masters and doctoral theological degrees and continuing education with programs offered on campus and online. United's goal is to educate dynamic, Spirit-led leaders who will renew the church for the mission of Jesus Christ in the world.