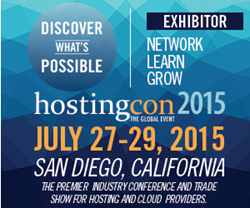 Houston, TX (PRWEB) June 30, 2015
Servermonkey will once again be taking on HostingCon this year in San Diego, California. HostingCon Global 2015 will be open to hosting, cloud, and internet industries from July 27-29 at the San Diego Convention Center. Year after year, HostingCon provides beneficial industry knowledge and intelligence to attendees.
At HostingCon, industry leaders and hosted service professionals gather to see new products and experience educational programs. Attendees will also be provided with new partnership opportunities to take business ideas to the next level. Educational session topics will include sales and marketing, technology, issues and trends, and management.
HostingCon will continue to provide attendees with face to face opportunities with innovators and technology gurus, to help make attendees more successful. HostingCon gives attendees the opportunity to create and develop business visions and models by networking with other professionals.
Servermonkey will be hosting booth 431 on July 28-29 and will have plenty of swag to give out.
Representatives from Servermonkey will include Sales Manager Bashar Hindi, Asset Services Account Managers Andy Madrigal and Frank Ortiz, and Marketing Supervisor Charlotte Boman.
About Servermonkey - Located in Houston, TX, Servermonkey (http://www.servermonkey.com) buys and sells new and refurbished servers and networking equipment. With a blend of low prices, high quality, and exceptional service, Servermonkey offers a unique opportunity for corporate IT groups to economize without compromising.
Servermonkey also partners with large enterprise to sustainably handle decommissioned IT equipment. Reusing or recycling equipment is the environmentally conscious choice, and should be an integral part of any company's green initiative. As an 'A+' rated Better Business Bureau accredited company, Servermonkey provides end to end solutions for asset disposition.