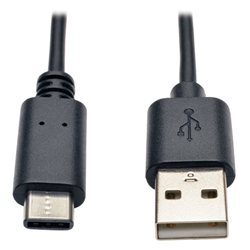 get full functionality from the USB-C port on their smartphone, tablet, Ultrabook or computer
Chicago, IL (PRWEB) June 29, 2015
Tripp Lite, a world-leading manufacturer of power protection and connectivity solutions, is launching a complete line of cables and adapters with the new USB Type-C™ connector. This connector, also known as USB-C™, is small enough for mobile phones, but powerful enough for laptops and tablets. Designed to accommodate future innovations, USB-C connectors have the capability to support USB 3.1 Gen 2 data transfer rates up to 10 Gbps, USB Power Delivery up to 100 watts and USB Alternate Mode to transmit DisplayPort, DVI, HDMI or VGA signals alongside USB data and power signals.
USB-C connectors are reversible and are compatible with previous USB generations. Adapter cables are available to connect USB-C ports to USB 2.0 devices that have USB-A, USB-B, Mini-B or Micro-B connectors. USB 3.1 Gen 1 (5 Gbps) adapter cables have the same USB-A, USB-B or Micro-B connectors as existing USB 3.0 devices. Adapters are also available to use the USB-C port on a device to add Gigabit Ethernet or a DisplayPort, DVI, HDMI or VGA display.
Key Features:
-- USB-C solutions for USB 2.0, 3.0 and 3.1 devices
-- Can carry video signals like DisplayPort, DVI, HDMI and VGA
-- USB-C connector is reversible to connect in either direction
-- Backward compatible with previous USB generations
-- Available with USB-A, USB-B, USB-C, Micro-B, Mini-B, Gigabit Ethernet and video connectors
"We're excited to help customers get full functionality from the USB-C port on their smartphone, tablet, Ultrabook or computer," said David Posner, Tripp Lite Product Manager. "As USB-C connectors are integrated into more devices, such as the Nokia N1 Android™ tablet, Chromebook Pixel™ and MacBook®, Tripp Lite will offer new solutions to keep pace with this evolving technology."
For more information on the new USB-C line, visit: Tripp Lite USB Products with USB Type-C Connector.
About Tripp Lite
Outstanding product reliability and exceptional service have been Tripp Lite trademarks for over 90 years. Tripp Lite´s innovations include the world's first UPS system designed specifically for personal computers and the world's most trusted premium surge suppressor—the Isobar®—with more than 19 million in use. Tripp Lite maintains the highest level of ready-to-ship inventory in the industry with more than 3,000 different products, including UPS systems, rack systems and cooling solutions, PDUs, PowerAlert software for enterprise-level system management and control, surge suppressors, KVM switches, cables and connectivity products, inverters, power strips and notebook accessories. Headquartered in Chicago, Illinois, Tripp Lite maintains a global presence with fully staffed offices worldwide. Additional information, including a list of Tripp Lite's sales offices and authorized reseller partners, can be found by visiting Tripp Lite's website: http://www.tripplite.com.