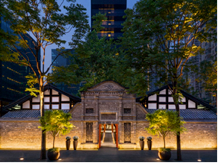 Hong Kong (PRWEB) June 29, 2015
Swire Hotels is happy to announce the launch of The House Collective brand. With a growing portfolio of the luxury hotels in China, The House Collective brings together each "House" hotel under a single brand. The name suggests a collection of residences or homes with a strong design collaboration and intent. It also positions the "collective" as home to a cooperative enterprise and a group of close-knit, like-minded people working together towards a common goal.
Each property of The House Collective has its own distinctive character and sense of style, comprising a group of refined, highly individual hotels that defy comparison. The Upper House, The Opposite House and The Temple House are all uniquely imagined hotels for seasoned travelers who seek a different, intimate and personalized experience in luxury travel.
Brian Williams, Managing Director of Swire Hotels, says, "Our goal is to create a series of highly individualized hotels which houses a range of dynamic restaurants and uniquely designed facilities.
They are specially designed for seasoned travelers who seek a different, intimate and personalized experience."
The Upper House, Hong Kong
Located in Hong Kong, The Upper House was designed by architect Andre Fu. The calming contemporary hotel is a haven within the city. The hotel's 117 studios and suites are surprisingly spacious, featuring natural materials and gorgeous bathrooms. Enjoy thrilling views from Level 49 at Café Gray Deluxe.
The Opposite House, Beijing
The Opposite House is a striking hotel that puts you in the heart of Beijing life. Designed by Japanese architect Kengo Kuma, the 99-studio hotel mixes dramatic contemporary style with Chinese traditional designs and abundant space. Its four modern, lively restaurants and bars are essential destinations in Taikoo Li Sanlitun Beijing.
The Temple House, Chengdu
In Chengdu, a beautifully restored and traditional courtyard leads you along stepping stones to The Temple House, a very contemporary hotel inspired by a Chinese aesthetic. The beautifully designed architecture is an alluring 100-studio hotel with 49 residences, three restaurants and a bar, engaging event spaces, landscaped hills and courtyards, plus an urban day spa with a teahouse.
In celebration of the launch, Swire Hotels has collaborated with LUXE City Guides to create a co-branded sleeve for Hong Kong and Beijing City guides which can be found at the hotels as a special gift for in-house guests.
For more information, please go to http://www.the-house-collective.com
# # #
About Swire Hotels and Swire Restaurants
Swire Hotels has been created to manage soulfully individual hotels in Hong Kong, Mainland China, the United Kingdom and the USA, providing a characterful experience for well travelled individually minded travellers who seek originality, style and personalised service. We create distinctive hotels with a sense of place that break with convention.
The company's first hotel, The Opposite House in Beijing, opened in 2008 and was followed by The Upper House, Hong Kong, and then by EAST, Hong Kong and EAST, Beijing. The Temple House in Chengdu is due to open in Q2 2015 and EAST, Miami in Q4 2015.
Swire Hotels has also created a stylish collection of locally inspired hotels in the UK: the first Chapter Hotel, The Montpellier Chapter, opened in Cheltenham in 2010 and was followed by The Magdalen Chapter in Exeter.
A restaurant division was set up in 2013 to manage the company's stand-alone restaurant operations. Our first restaurant Plat du Jour opened in November 2013 followed by Public and Ground Public in Quarry Bay and The Continental in Pacific Place, which opened in October 2014.