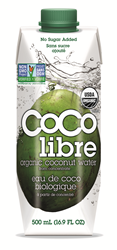 Mountain View, CA (PRWEB) June 26, 2015
Coco Libre announced today that their flagship Organic Coconut Water will be behind the scenes hydrating the team who makes the 15th Annual "BET Awards" 2015 happen. The Awards, cohosted by Anthony Anderson and Traci Ellis Ross, will be broadcast live on BET from The Microsoft Theatre in Los Angeles, CA on Sunday, June 28 at 8PM PT/ 7PM CT.
Artists, crew, and staff will be putting together the year's biggest award show for Hip Hop, Rap, and R&B artists. The "BET Awards" is one of the most watched award shows on cable television according to the Nielsen Company. From set-up through breakdown, Coco Libre will be there to keep thirst at bay and bodies balanced with natural electrolytes.
"After the response we got for supplying Coco Libre backstage at awards shows and TV green rooms we're excited that we can support the BET Awards," said John Campbell, Coco Libre Director of Marketing. "These award and charity broadcasts take so many hardworking artists and production staff to pull off—and we're happy to keep them hydrated."
Coco Libre is known for delicious flavor with no added sugar and is USDA organic, OU kosher, gluten free and Non-GMO Project Verified. Coco Libre was also recently nominated for two Eco Excellence Awards by NCW Magazine.
ABOUT "BET AWARDS"
The "BET Awards" franchise is BET's #1 telecast every year. It recognizes the successes of artists, entertainers, and athletes in a variety of categories. This show of stars will feature this year's hottest Hip Hop, Rap, and R&B musicians. The nominees are chosen by an academy made up of people from the music industry, media, and bloggers. The "2015 BET Awards" is produced by BET and Jesse Collins Entertainment. For the latest news and information, check out BET.com/Awards, the official site for the "BET Awards."
ABOUT COCO LIBRE
Coco Libre's flagship Organic Coconut Water is the nutritional foundation for a growing family of purposeful beverages. Coco Libre Protein was a finalist for Best New Product Line Extension at the World Beverage Innovation Awards 2014. Coco Libre beverages can be found in grocery, specialty and natural foods retailers in the U.S. and Canada. To learn more visit http://www.cocolibreorganic.com, Facebook.com/CocoLibre, twitter.com/CocoLibre and Instagram @CocoLibre. Liberate your thirst.™