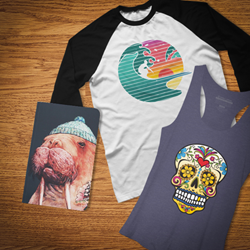 Customers and fans of our artists now have so many more ways to display their favorite designs.
Chico, CA (PRWEB) June 30, 2015
Design By Humans (DBH) has expanded its range of apparel yet again, bringing a whole new set of products to consumers worldwide. The announcement gives artists new items on which to display their artwork.
Baseball tees featuring contrasting 3/4-length sleeves, women's racerback style tank tops, kids apparel and a series of limited edition notebooks are all now available at DesignByHumans.com.
The release of baseball tees and racerbacks coincides with the warm weather, making both a great option during the summer months. Outfit your softball team in matching baseball tees, to ensure a winning look. Our racerbacks provide a more stylish option for our female customers, who have asked for a wider selection of styles. We think the soft feel and great fit will be a hit with our female audience.
Kids apparel has been in the works at DBH for quite a while, and many of our favorite designs are now available to little humans. Much like our men's and women's lines, you can find your favorite designs on high-quality T-Shirts in a range of sizes for kids.
"Knowing my wife's personal challenge of finding the most unique clothing and designs for our kids, I'm excited to bring boys and girls sizes to DBH," says Marketing Director, Kevin Kinell.
The notebooks are printed in partnership with Denik, a company that donates a portion of their proceeds to rebuilding schools. 15 popular DBH designs were chosen for this limited run, and are available with lined and unlined paper.
"I think this presents a really exciting opportunity for our artists," says Artist Manager, Cassie. "Customers and fans of our artists now have so many more ways to display their favorite designs."
DBH is looking to continue the trend of offering new items for their artists and consumers alike.
About Design By Humans
Design By Humans was started in 2007 with the simple vision of bringing artists from around the globe together. By giving them a platform to produce wearable art that tells a story, they can strengthen humanity and inspire life through creativity and design. The DBH Collective initiative is inspiring amazing artists and giving them a unique foundation to share artwork through a personal storefront. With over 25,000 unique designs on T-Shirts, tanks, sweatshirts, hoodies, kids apparel, phone cases and art prints, DBH offers their customers truly customizable, high-quality products.
###
If you would like more information about this topic, please call +855 333 9836 x 302 or email pr(at)designbyhumans(dot)com.