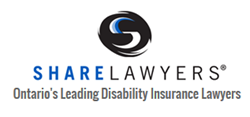 The Share Lawyers guarantee is that we will fight for your rights and recover the monies owed to you.
Toronto, ON (PRWEB) June 30, 2015
Representatives with Share Lawyers announced today that they are now offering free online consultations and evaluations of long term disability insurance claim cases.
"The Share Lawyers guarantee is that we will fight for your rights and recover the monies owed to you," said Wendy Hamilton-Share, spokesperson for Share Lawyers.
Hamilton-Share explained that Share Lawyers are providing consultations and evaluations online dealing with Disability Claim Disputes; Disability Mortgage Insurance Disputes; Employment Termination Illness; Critical Illness Insurance Disputes; Business Overhead Insurance Disputes; Professional LTD Disputes; Life Insurance Disputes; Accidental Death Disputes; Out of Country Medical Disputes, and Fire Coverage Disputes.
"Unlike our competitors, Share Lawyers only specializes in Long Term Disability claims," Hamilton-Share said.
When it comes to disability claims, Hamilton-Share noted, "We represent a large number of clients who have been denied benefits under either a group disability insurance policy or a private policy. These cases are usually heavily dependent on obtaining the necessary medical evidence to prove the disability in a way contemplated by the policy in question.
"Most policies," according to Hamilton-Share,"contain time limits that can be difficult to interpret and so as soon as people's claim for disability benefits have been denied, we would encourage you to contact us to discuss your long term disability dispute case to see if we can be of assistance to you and your family."
As to the quality of Share Lawyers service, one client identified as Ronald Hoven, said he couldn't be happier.
"It was my first experience dealing with any law firm," Hover said, before adding,"Scary at first, but I was put at ease very quickly by David and his team."
For more information, please visit http://www.sharelawyers.com/services and http://www.sharelawyers.com/blog/
About Share Lawyers
Share Lawyers was established in 1987 and since that time has been providing top-quality personal injury and disability insurance representation to individuals in Ontario and across Canada. We believe that every personal injury and long term disability insurance claim client deserves the best service. In order to achieve that goal we have put together a team of experienced, compassionate and caring lawyers, law clerks and legal assistants in order to meet all of your needs.
Contact Details:
Share Lawyers
3442 Yonge Street
Toronto, ON
M4N 2M9
Canada
Tel: (416) 488-9000
Fax: (416) 488-9004
Toll Free: 1(888)777-1109
Source: Share Lawyers