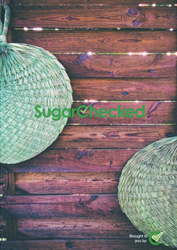 With cases of diabetes and obesity on the rise - and a direct negative correlation from the excessive intake of sugar - it's important that we as consumers fully understand the ingredients that go into our food and bodies and what our families eat
Los Angeles, CA (PRWEB) June 29, 2015
Content Checked Holdings, Inc. (OTCQB:CNCK) (the "Company" or "Content Checked"), the dietary health technology company that created a revolutionary marketplace for people with dietary restrictions, today announced the availability of its new mobile application SugarChecked, giving consumers the ability to scan the barcodes of grocery store products and determine what kind of sugars are contained within. SugarChecked is an easy-to-use shopping tool for consumers to decipher often-misleading food labels, and receive recommendations for healthier alternative products as they shop in real time. SugarChecked is available in the iPhone App store and Google Play store for $0.99.
"SugarChecked addresses a growing problem while empowering people to make smarter choices about their diet. With cases of diabetes and obesity on the rise - and a direct negative correlation from the excessive intake of sugar - it's important that we as consumers fully understand the ingredients that go into our food and bodies and what our families eat," said ContentChecked CEO Kris Finstad.
SugarChecked identifies four main types of sugars that consumers can avoid, including added sugars, artificial sweeteners, natural low-calorie sweeteners and sugar alcohols. The overconsumption of sugar is a leading cause of Type 2 Diabetes and a growing concern due to the negative health consequences and related costs of treatment. According to the Endocrine Society, roughly one third of Americans are dealing with obesity or complications related to the disease, making it one of the largest health related costs in the United States.
In addition to breaking down the kind of sugars contained within foods and highlighting healthier choices, SugarChecked also gives consumers the option to stream video content related to sugar free products, recipes and menus. SugarChecked regularly updates its expansive database with new products, healthy alternatives, recipes and menus so consumers can keep themselves educated on the path to a healthier lifestyle. "We offer a great way for food manufacturers and recipe makers to showcase their work to consumers looking for healthy alternatives," said Miad Ballai, ContentChecked's COO.
For more information about SugarChecked please go to http://www.sugarchecked.com. You can also visit SugarChecked's social channels on Facebook and Twitter.
About SugarChecked
SugarChecked, from the ContentChecked team, is a unique mobile application that upon scanning a product gives the user an alert based on their personal dietary sugar preference. Developed by the ContentChecked team and led by Kris Finstad and Miad Ballai, SugarChecked app offers comprehensive sugar content information that is fact-checked by a team of nutritionists.
About Content Checked Holdings, Inc.:
Content Checked (http://www.contentchecked.com) has created a revolutionary marketplace for people with dietary restrictions and the organizations who cater to them by creating and introducing the ContentChecked, MigraineChecked and SugarChecked smartphone applications to the market. ContentChecked and MigraineChecked applications are the first applications with comprehensive and accurate content information, and in-depth allergen and migraine definitions for most U.S. food products. SugarChecked gives consumers the ability to scan the barcodes of grocery store products and determine what kind of sugars are contained within. This enables the applications to meet the needs of millions of people in the United States. As a result, Content Checked has created a pivotal way for food producers to, at the point of purchase, be able to showcase their products to consumers who are actively seeking them.
For more information on Content Checked, please visit its social media channels via Facebook (https://www.facebook.com/contentchecked)
Instagram (https://instagram.com/contentchecked), or
YouTube (https://www.youtube.com/channel/UCMihoaZILlRZ2C3hmx5vXhQ).
Forward-Looking Statements:
Any statements contained in this press release that do not describe historical facts may constitute forward-looking statements. Forward-looking statements may include, without limitation, statements regarding (i) the plans and objectives of management for future operations, including plans or objectives relating to the design, development and commercialization of the Company's mobile applications, (ii) a projection of financial results, financial condition, capital expenditures, capital structure or other financial items, (iii) the Company's future financial performance and (iv) the assumptions underlying or relating to any statement described in points (i), (ii) or (iii) above. Such forward-looking statements are not meant to predict or guarantee actual results, performance, events or circumstances and may not be realized because they are based upon the Company's current projections, plans, objectives, beliefs, expectations, estimates and assumptions and are subject to a number of risks and uncertainties and other influences, many of which the Company has no control over. Actual results and the timing of certain events and circumstances may differ materially from those described by the forward-looking statements as a result of these risks and uncertainties. Certain factors may influence or contribute to the inaccuracy of the forward-looking statements or cause actual results to differ materially from expected or desired results. These factors are identified and described in detail in the Company's filings with the SEC, including, the Company's Current Report on Form 8-K/A filed with the SEC on May 22, 2015. The Company does not undertake to update these forward-looking statements.
Contact:
Content Checked Holdings, Inc.
Phone: 424-205-1777 x1
press@contentchecked.com
Media Contact
Kevin Blomberg (PMBC Group)
310-777-7546
Kevin@pmbcgroup.com