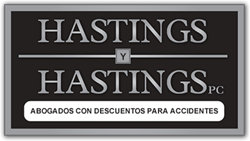 Phoenix, AZ (PRWEB) June 27, 2015
Hastings & Hastings, a Phoenix law firm offering industry recognized discount attorney fees reports record demand for workplace injury related legal representation. Hastings & Hastings is a firm that is known for advocacy, leadership, compassion and integrity. The firm offers all clients substantially discounted attorney's fees that are considered to be among the most notable in the legal industry. With the steady influx of referrals that Hastings & Hastings continues to receive from existing and former clients, it is obvious to industry onlookers that the firm has been and continues to be highly effective in assisting clients in a professional way while saving those clients money on successful recoveries.
Countless injuries occur each and every day throughout the state of Arizona and across the country in the workplace. One particular type of injury that often happens in this regard is burn related. Hastings & Hastings offers clients comprehensive and dedicated personal injury legal representation in the state of Arizona for those who have been injured due to the negligence of another individual or an employer. When an accident does happen, time is of the essence due to the statute of limitations in the state of Arizona. The firm is strongly rooted in providing personalized and focused personal injury legal assistance and representation. As such, strict adherence in observance of the statute of limitations is always maintained to ensure that clients have the best chance possible of obtaining a recovery.
Another important aspect of the firm's commitment to client advocacy is that the firm strives to deliver an aggressive yet fair negotiation style when working with insurance company representatives. These insurance companies have come to respect the firm's experienced negotiation style. With a large number of referrals from prior satisfied clients, Hastings & Hastings has earned a trusted reputation throughout Arizona, among industry onlookers and with prior and existing clients. As is the case in Arizona, attorney's fees are calculated based upon the type of accident recovery and the strategy that the client wishes to pursue from a legal perspective. While each recovery attempt is different, regardless of the complexity, Hastings & Hastings always establishes one discount fee with regard to attorney services. Once this has been established the fee schedule is never changed or never adjusted.
When clients meet with a Hastings & Hastings attorney the initial consultation is always free. In addition, an attorney with the firm will determine liability and damages and potential litigants prior to initiating the recovery process. With a no fee promise, clients can rest assured that if there is no recovery that no attorney's fees will be due. This timely announcement with regard to the recent record demand for workplace related legal representation is more proof that Hastings & Hastings is an Arizona law firm that stands behind its promises when it comes to client advocacy.