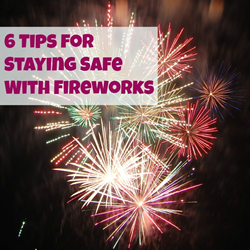 Hammond, Indiana (PRWEB) June 29, 2015
Now celebrating its 40th year selling top-quality, name brand fireworks, Dynamite Fireworks has long prided itself on providing its customers with the information they need to handle fireworks legally, responsibly, and safely. As the Fourth of July approaches, Dynamite Fireworks owner Kris Zambo wants to remind everyone that responsible handling is the key to staying safe during your holiday fireworks extravaganza.
"Even with great strides in fireworks safety during the last 20 years due to more stringent government regulation and enforcement, fireworks design itself, and much greater public awareness, the single most important part of safety starts and ends with smart personal decision-making," says Zambo.
The United States Consumer Product Safety Commission notes that 60% of all fireworks injuries occur during the month surrounding Independence Day. In 2012, this equaled 5,000 hospital visits, with burns to the hands, head, or face accounting for more than half of the injuries. These statistics sound intimidating, but later investigations showed that the vast majority of injuries were caused by misfiring fireworks or unsafe use.
Dynamite Fireworks is committed to supplying consumers with only the highest quality, legal fireworks, dramatically reducing the risk of misfires or other malfunctions. However, it is up to the individual end user to take the necessary precautions to keep themselves and their families safe.
"Although great fireworks innovations and improvements in recent years, such as slower burning fuses, wood stick sparklers, and plastic mortar tubes, have drastically helped improve safety," according to Zambo, "it still only takes one bad decision to cause a lot of harm or damage."
From Dynamite Fireworks, here are six ways to protect your family this Fourth of July.
1. Use common sense.
Never point fireworks at someone else. Supervise teens who want to light fireworks, and do not let young children light them at all. Never attempt to relight duds, and thoroughly extinguish spent fireworks in water.
2. Never use homemade or illegal fireworks.
Banned as consumer fireworks since the 1960s, M80s and Cherry Bombs may be "pretty," but they are major explosives that can be highly dangerous. Homemade fireworks are not subject to any sort of quality control, and they may not behave as you anticipate. Also remember that what is legal in one area is not necessarily legal in another. Fireworks laws vary between cities, counties, states, and countries, so always check the applicable ordinances before you begin your fireworks show.
3. Become educated on the specific fireworks you plan to use.
Some explode high in the air, while others crawl along the ground. Read the packaging carefully and make sure you understand exactly what each firework will do. Remember that conditions are almost never ideal, so always clear a bigger area than you expect to need.
4. Create a safety zone.
Clear the ground of debris and flammable materials, and create a perimeter beyond which no one is allowed except the person who will light the fireworks. Take pets indoors or keep them contained, and watch small children closely. While many adults enjoy a few alcoholic beverages during the holiday, whoever is lighting the fireworks should be sober. Keep a bucket of water or a garden hose close at hand, and double check that the area is clear before each launch.
5. Be careful with sparklers, which can reach temperatures hot enough to melt gold.
If you allow children to use them, provide detailed safety instructions and close supervision. Make sure your kids are wearing non-flammable clothes without loose hanging sleeves or accessories. Have them tie back long hair. Always douse used sparklers in water before setting them down or throwing them away.
6. Get prompt medical attention for any fireworks-related injury.
In many cases, picking at the wound, especially if it is in the eye, can make it worse. Do not flush the eyes, but do run cool water over any skin burns. Most fireworks injuries are minor, and respond well to quick treatment.
While professional shows can be spectacular, nothing beats the feeling of designing and firing your own fireworks show. Rather than letting fear take over, use these simple safety precautions to protect yourself and your family this Fourth of July.
"When used correctly and safely, fireworks can absolutely help to enhance your festivities and parties. Self discipline and smart decisions when using fireworks, will add to the overall experience and help make positive memories that will last a lifetime," Zambo says.
About Dynamite Fireworks
Less than 1 mile from the Indiana-Illinois state line, Dynamite Fireworks is the closest fireworks store to Chicago, and is open year-round. Visit Dynamite Fireworks at 4218 Calumet Ave, Hammond, IN. Call (219) 937-4090 for more information, or go to https://dynamitefireworks.com/.