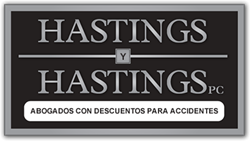 Phoenix, AZ (PRWEB) June 27, 2015
Hastings & Hastings, a forward-looking personal injury legal firm in Phoenix, Arizona, reports new demand in 2015 for flat discount fee legal representation. The firm has a tried and tested reputation throughout the community and among previous and existing clients for providing focused and detailed personal injury representation. The firm routinely works closely with clients to determine the value of a claim and helps clients to move swiftly in filing a claim and avoiding issues with regard to the statute of limitations.
That is why it is critical for those that have been involved in some type of accident to contact an attorney as quickly as possible. The firm makes it clear that while medical attention is always the top priority, moving swiftly with regard to gaining legal representation is critical to having the best chances of enjoying a successful recovery. As an experienced trial law firm, Hastings & Hastings has represented personal injury and wrongful death victims at discount fees for well over three decades. With humble beginnings as a small 2-attorney practice, Hastings & Hastings has evolved and grown to become a sizable firm with offices located throughout the greater Phoenix metropolitan area affording access to those from virtually anywhere in the state.
Considered by prior and existing clients to be a client friendly and professional organization, the firm maintains its core principles of transparency, exemplary service and attention to personalized representation. Known for advocacy, integrity, leadership and compassion, Hastings & Hastings has earned its reputation one client at a time year after year. Clients that demand and deserve dignified and experienced legal representation when it comes to personal injury cases routinely turn to this Phoenix firm. With free consultations by an actual lawyer and not a salesperson, clients can rest assured that they will receive the most accurate, detailed and up-to-date information available.
From property damage cases to motorcycle accident cases and cases involving wrongful death, Hastings & Hastings covers virtually all aspects of personal injury law. The firm offers a state-of-the-art website that is intuitive and easy to navigate. This makes it simple and convenient for clients and prospective clients to access dedicated and focused legal representation when they have been injured because of the negligence of another individual or company. This recent announcement with regard to new demand in 2015 for flat discount fee legal representation is further confirmation that Hastings & Hastings is continuing with the tradition of providing genuine discounted legal fees without discounting services.
Hastings & Hastings is a leading provider of discount personal injury legal services located in and serving the greater Phoenix metropolitan area. This respected legal firm specializes in assisting individuals that have been the victim of serious injuries that have resulted from accidents that were no fault of their own. Hastings & Hastings is a trusted group of attorneys that deliver personalized service and guidance for injury victims throughout Phoenix and all across the state of Arizona. Hastings & Hastings is known throughout legal circles as a dedicated team of professionals and a law firm that has been representing accident victims throughout Arizona for decades. Hastings & Hastings has consistently exceeded clients' expectations with regard to representing a wide array of accident related injury victims at times when it mattered the most and always doing so with discount attorney's fees.