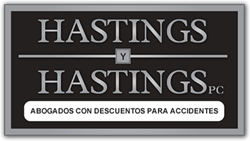 Phoenix, AZ (PRWEB) June 27, 2015
Hastings & Hastings, a discount accident lawyer that has served the residents of Arizona for decades announces record demand for premise liability representation in 2015. Hastings & Hastings has multiple offices located across the valley that have helped countless victims over the years with a wide range of personal injury circumstances. The firm addresses virtually every type of personal injury situation including everything from automobile accidents to bicycle accidents and accidents involving motorcycles. In addition, the firm handles dog bite type accidents and slip and fall specific accidents. Those who have been injured due to someone else's negligence have recourse in the form of filing a legal claim.
Hastings & Hastings offers free consultations. One of the most notable things that set the firm apart from other firms is that each consultation is always conducted with an experienced and licensed attorney. This is in sharp contrast to other firms that typically provide for a consultation with a salesperson or paralegal. When accident victims have the benefit of working directly with an attorney even in the consultation phase, they are more likely to make a better and more informed decision with regard to filing a claim. The firm brings to the table more than three decades of experience in the personal injury arena. Those requiring auto accident legal services in Arizona have come to rely upon and depend upon Hastings & Hastings.
Featuring a qualified team of focused personal injury attorneys, Hastings & Hastings has strategically located offices throughout Arizona so that clients are able to access legal services in the most efficient and convenient way possible. Another important distinction with regard to the Hastings & Hastings difference is that the firm is always standing by and ready to dispatch an attorney to those who are unable to travel or those who are restricted to a bed. In many instances injuries are severe and result in patients being unable to travel. Hastings & Hastings attorneys are known for their personalized service and their ability to assist clients in virtually any type of setting.