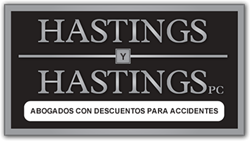 Phoenix, AZ (PRWEB) June 28, 2015
The firm has grown over the years to become one of the most trusted and respected names in accident related personal injury representation. From slip and fall accidents to dog bites and accidents that involve pedestrians, the firm stands proud as an advocate of clients when it comes to dealing with insurance agencies or going to trial. Whatever the case may be, one thing is certain and that is that Hastings & Hastings is a personal injury legal firm in Arizona that has earned the respect and trust of the community.
Hastings & Hastings focuses on advocacy, leadership, integrity and compassion. By maintaining these core principles, the firm has grown over the years to 11 well-positioned office locations in Arizona. This affords a level of convenience for clients that would otherwise not be possible. Each office is staffed by experienced and knowledgeable personal injury lawyers that have years of experience in the industry. Attorneys at each location are always ready to accommodate clients who have been injured because of the negligence of another individual, company or government agency. Catastrophic injuries, loss of life and other serious concerns are all routinely addressed by the professional lawyers of Hastings & Hastings.
The firm has traditionally exhibited core principles of exemplary service and strives to provide focused and dedicated representation in its day-to-day practice. With an impressive number of referrals from existing and former clients, the firm has made it clear that it strives to deliver dignified and experienced attorney services in personal injury matters without exception. Another key aspect of the firm's dedication to outstanding service is its commitment to discount attorney fees. Clients can rest assured that if there is no recovery that no lawyer fees are ever required. It is really that simple when working with the professionals of Hastings & Hastings.
Hastings & Hastings initially started as a small two-attorney legal practice and has evolved over the decades to become a large and substantial multi-office firm with dozens of attorneys in multiple locations throughout the greater Phoenix metropolitan area. By offering free consultations with a practicing licensed attorney, the firm helps to ensure a greater level of success when it comes to any recovery effort. This recent announcement with regard to record demand in the month of May for personal injury legal representation in Arizona is just one more indicator that Hastings & Hastings is a law firm that stands behind its commitment to providing clients with the most professional legal representation possible.