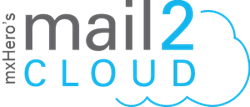 MxHero is honored to be in CIO Review's Top 100 Listing of most promising Microsoft solution providers
San Francisco, CA (PRWEB) June 30, 2015
MxHero, leading developer of email and cloud storage convergence, was included in the influential CIO Review magazine's recent listing of 100 most promising Microsoft solution providers. The June, Microsoft special issue, highlights 100 Microsoft partners. These partners are, "top players from over thousands of Microsoft solution providers," states the magazine. "The companies listed demonstrate an ability to develop innovative technologies, methodologies and outstanding customer service," adds CIO Review.
MxHero's solution is engineered to leverage the internet's most common communication tool -- email -- as a way to seamlessly and non-disruptively on-board new technologies in organizations and generate new business intelligence and insights. Their Mail2Cloud product specifically addresses the convergence of any email platform (like Google Apps, Exchange, or Office 365) with cloud storage solutions like Box, Dropbox, Google Drive, or Citrix Sharefile.
MxHero has recently garnered several accolades and references in the specialized press for its Mail2Cloud innovation. Among the recent mentions includes Gartner in their "Cool Vendors in Social Software  and Collaboration, 2015" report.
"All of us at MxHero are thrilled by the honor of being selected by CIO Review in their latest selection of most promising Microsoft solutions. It is a wonderful validation and meaningful reward for all the hard work we have put into our products and services," expressed Alex Panagides, CEO of MxHero.
MxHero is available from http://mail2cloud.io/ with no-cost and premium paid offerings.
About mxHero
mxHero is a company dedicated to enhancing email for businesses and end users. mxHero's products and services gives companies, service providers and end users powerful new ways to control, use and analyze email. Apps developed for mxHero's platform work with any email management program, including Gmail and Microsoft Exchange. Information on all of their Mail2Cloud product line can be found at http://www.mail2cloud.io. More than 3,500 companies with 800,000 users have added mxHero to their email. To learn more about mxHero visit http://www.mxhero.com. Find mxHero on Twitter: @mxheronet and Facebook: mxHero.net