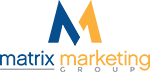 I am delighted to welcome Gem and Amanda to the Matrix Marketing Group team. Gem and Amanda's track record speaks for itself. They join us at a perfect time as we build momentum, expand our capabilities and accelerate growth.
DENVER, CO (PRWEB) June 30, 2015
Matrix Marketing Group, LLC, a leading provider of performance-based marketing services and technologies, today announced that it has hired Gem Swartz to head up its account management department as vice president of client services. Amanda Gregory joins the team as senior account director. Both Gem and Amanda bring senior account management and delivery expertise to the growing Matrix Marketing Group team in Denver, Colorado.
Swartz comes to Matrix Marketing Group with nearly 15 years of agency management experience and has spearheaded the development of integrated marketing programs that consistently deliver measurable results and drive revenue.
Gregory brings big idea strategy and creative acumen to Matrix Marketing Group as a result of her 15-year tenure at The Integer Group, Leo Burnett and J. Walter Thompson. Her leadership has resulted in driving sales on behalf of the agency and client.
George Schildge, CEO Matrix Marketing Group said, "I am delighted to welcome Gem and Amanda to the Matrix Marketing Group team. Gem and Amanda's track record speaks for itself. They join us at a perfect time as we build momentum, expand our capabilities and accelerate growth. Both are passionate about their craft and faultless in everything they execute. More importantly they share my enthusiasm for the huge opportunity within the high-technology, financial services, and bio-technology market segments."
About Matrix Marketing Group
Matrix Marketing Group is a performance-driven marketing agency that helps small to medium sized companies create predictable, scalable revenue growth. Matrix Marketing Group's holistic approach to strategy, people and technology results in shorter sales cycles, larger deal sizes, higher close rates, more focused resources, and increased return on marketing investment. The company can be reached at 866-456-7277, or http://www.matrixmarketinggroup.com