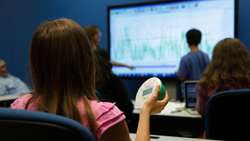 "After thousands of unique implementations, our new solutions emerge directly from overwhelming educator feedback.
Belfair, WA (PRWEB) June 29, 2015
As part of its 30th Anniversary Celebration, BOXLIGHT, a global leader in developing and manufacturing award winning projectors, interactive flat panels, and classroom solutions, is launching its new line of Interactive Classroom Solutions at the International Society for Technology in Education (ISTE) Conference, being held June 28 – July 1st in Philadelphia. In addition, BOXLIGHT will launch its new DeskBoard 75M and Labdisc: an all-in-one wireless STEM lab that fits in the palm of your hand. The releases will be showcased in booth 1600 on the ISTE tradeshow floor.
BOXLIGHT Interactive Classroom Solutions
Built on 30 years of innovation, BOXLIGHT Interactive Classroom Solutions are designed to blend easily with existing educational technologies, while providing real-time assessment and a broad range of device integration. Carefully integrated to foster immersive, hands-on, collaborative learning environments, BOXLIGHT's solutions begin with patented, award-winning interactive projectors and displays. Its wide range of spring-tensioned wall mounts and motorized height-adjustable stands bring those displays to life, with the mobility and adaptability modern classrooms demand.
"BOXLIGHT has been building custom-integrated classroom solutions for years," says Hank Nance, President of BOXLIGHT. "After thousands of unique implementations, our new solutions emerge directly from overwhelming educator feedback. We're very excited to bring them together at ISTE."
Options for sound, assessment, STEM and hands-on learning curriculum all come together with Oktopus, BOXLIGHT's integrated classroom software. Oktopus allows teachers to easily poll their students on just about any mobile device with a one-click collaboration session. Lessons and questions can be created on-the-fly and converted digitally through embedded handwriting recognition and then sent to the students devices with the touch of one icon. Best of all, BOXLIGHT's Integrated Classroom Software lets teachers work with the flipcharts, lesson plans and other materials they already use.
Activities In Booth 1600 at ISTE
Educators attending ISTE can plug in on their mobile devices at http://www.30yearsbrilliant.com, where BOXLIGHT's team will post updates and promotions throughout the show.
All educators who visit BOXLIGHT's booth and scan their badge are entered to win a complete P10 Deskboard Classroom Solution, which will be awarded in a drawing to be held at 4:30 PM in booth 1600 on Tuesday, June 30th. Must be present at the time of the drawing to win.
BOXLIGHT will host demonstrations and presentations of all of its products on the hour in booth 1600. Schedules will be posted daily.
Dovi Bruker, creator of the Labdisc (being launched at ISTE) and CEO of Globisens, will be offering demonstrations and interviews in booth 1600, throughout the day on Monday June 29th.
Several models and configurations of BOXLIGHT's DeskBoard Series will be on display in the booth, with demonstrations offered on the hour.
###
About BOXLIGHT
BOXLIGHT has been developing and manufacturing award winning projectors, interactive technology and providing complete classroom solutions since its inception in 1985. We pride ourselves in offering industry leading technical support and ISF Certified® service available 24 hours / 7 days per week / 365 days per year – for the lifetime of the product.
BOXLIGHT's ability to respond to customer needs allows for personalized service and an unbeatable relationship with partners and customers. BOXLIGHT is able to build products to specification or customize product on an individual basis.
BOXLIGHT operations encompass sales in the United States and worldwide. Headquarters are located in Belfair, Washington with offices in Lawrenceville, GA, Mexico City, Taiwan and China. BOXLIGHT products and services are available on-line at http://www.boxlight.com or by calling 360.464.2119.