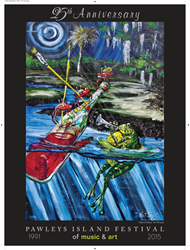 "In my painting, "Marsh Music," I wanted to portray the child-like joy that music and art bring to our lives by animating creatures found within our beautiful South Carolina marsh and giving them musical instruments and paintbrushes," John Witzel Walters
Pawleys Island, SC (PRWEB) June 30, 2015
"Marsh Music", an original painting by John Witzel Walters, has been selected as the official art of the 2015 Pawleys Island Festival of Music & Art.
The artist, who describes his work as 'funky and cool', is known for depicting the ethereal, underwater world that he discovered years ago as a commercial scuba diver.
A South Carolina native who calls Georgetown home, Walters is a self-taught artist whose passion creates lasting, impressionable images of the beauty he experiences in the natural world. The textures, vibrant colors, and flow of the shapes reflected in his whimsical art are inspired by his love for nature, and the coastal region of South Carolina, in particular.
His signature style, a wet, glossy finish that diffuses light and allows the eye to see more color, is turning the heads of critics and art lovers throughout the world. What started as hobby has become a vocation, and the demand for Walters' work is soaring.
A staunch supporter of community arts with a love for sharing his talents with young people, Walters volunteers at local schools several times each year. As a guest art teacher, he inspires and encourages students of all ages and abilities. "I tell them they can be anything they want, including an artist," he said.
"All of us learn through the world around us and we continue to learn. My experiences have shaped who I am and how I see the world, thus influencing my art." One of Walters' most life-shaping events was 2013's tragic Front Street fire in Georgetown, SC in which he lost his home, over $30,000 of artwork, and his beloved dog, Jake. "I was inspired by the acts of kindness of so many that came together to rebuild lives and to rebuild Georgetown," he continued. "It is possible to heal, grow, and to once again see the beauty around us. We start anew with a blank canvas. Art has helped me heal," Walters continued.
"It is my conviction of the importance of arts in the community that inspired me to support the Pawleys Island Festival of Music and Art and enter this year's contest. In my painting, "Marsh Music," I wanted to portray the child-like joy that music and art bring to our lives by animating creatures found within our beautiful South Carolina marsh and giving them musical instruments and paintbrushes," he said.
Walters is no stranger to the Pawleys Island Festival of Music and Art. In 2012, his painting, "Marsh March", was selected from dozens of entries to be the signature art for that year's Festival.
"We are pleased to have a local artist of John's caliber, and we are especially proud that his work will represent the Pawleys Island Festival of Music & Art's 25th Anniversary. His commitment to the community and our youth epitomize what the Festival stands for. Not only do we bring great entertainment to the Lowcounty, but through grants and community outreach, we work with local schools to ensure that our youth are exposed to the arts," said Delores Blount, the Festival's Executive Director.
About the Pawleys Island Festival of Music & Art
The Pawleys Island Festival of Music & Art, held at The Reserve Golf Club of Pawleys Island, is a 501(c)(3) which features four weeks of cultural entertainment and musical performances, including a Wine Gala that serves as the event's primary fundraiser. 2015 marks the Festival's 25th Anniversary.
For more information and the latest updates on the Pawleys Island Festival of Music & Art, along with sponsorship and membership opportunities, visit them online at http://www.pawleysmusic.com/ or call 843-626-8911.