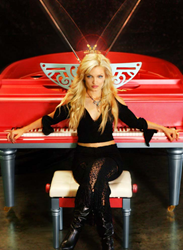 Beverly Hills, CA (PRWEB) June 30, 2015
The Ferrari-red grand piano, a rare collector's item recently appraised at $75,000, is considered an heirloom of the Fulton/Coppola-Cage family. The magnificent instrument switched ownership to Oksana last week. Oksana Kolesnikova, pianist to the stars and recording artist, has performed for Sir Elton John, Kim Kardashian, Madonna and many more. Her eight LP releases feature original compositions and celebrity collaborations.
"It's a bit easier to collect famous guitars," quips Oksana, owner of eleven pianos, "but instruments with rich history inspire unique creativity in performance and composition. And Christina was kind enough to practically donate this amazing instrument to Oksana School of Music where it will continue to be played by celebrities and their children."
Under Cage and Fulton's ownership, the red piano has been played by Nicolas Cage, Tom Waits, Jim Carrey, and Johnny Depp – to name a few. Christina Fulton, Nicolas Cage, and Weston Coppola Cage have played their favorite songs on the piano.
"Christina is a dear friend and collaborator, making it that much more of a privilege to honor this gorgeous heirloom." Christina shared, "This piano could not have gone to a better family and artist like Oksana. I have been looking for a home for this piano for a while. I will miss my red piano, but I will visit it often."
Oksana and Christina are slated to collaborate on the forthcoming 'On Point Beauty' TV show. Christina is happy the heirloom is in the right hands, where it will be loved, cherished and honored.
Christina Fulton: Christina Fulton is an American Actress, Recording Artist, and Philanthropist. Her career covers a span of over 25 years during which Christina explored and excelled in many fields including modeling, acting, interior designing, television show hosting, fashion designing and more. A newbie author with eight books in development, and has plans to bring her talents to the fitness industry this coming year. Christina is the mother of Nicolas Cage's eldest son Weston Coppola Cage. As a self-taught, self-made woman, Christina is a creator, an inventor, and innovator.
About Oksana Kolesnikova: Oksana is a Russian-American composer, concert pianist and entrepreneur, she is also owner of Oksana School of Music, where she and her team of music teachers teach children piano, guitar, violin, drums and voice, among other instruments lessons.
Contact:
Mr. Alex, Manager – Oksana Management Group, Inc.
mgmt(at)oksana-k(dot)com