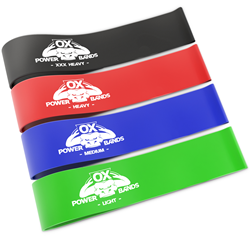 Madisonville, La (PRWEB) June 29, 2015
OX Enterprises has launched a new resistance bands product, OX Power Bands. The exercise bands offer workout options for legs, arms, and core. They are designed to help athletes, individuals rehabbing from injury, or anyone looking to develop, stronger, more toned, and sexy legs, abs, and arms. The bands are elastic and are sold in packs of four bands with four varying levels of resistance from "Light" to "XX Heavy". They are elegant, yet durable pieces that can help you shape your body into a sculpture worthy masterpiece.
The resistance bands loops are of superior quality since they are Health Club tested. OX Enterprises put them through paces at local health clubs in real world uses with typical users and found that their quality was excellent. They are best for home gym exercise and for both men and women. You can use them for physical therapy, Pilates, Yoga and strength training including Asylum and P90x.
The Ox Power Bands are light weight and therefore easy to take on the road. They provide a convenient and effective way to exercise in a safe yet dynamic way. They are strong and don't lose their elasticity even after a long period of usage. They are therefore a staple of many trainers and athletes who train on daily basis.
"OX searched a long time before bringing these bands to market" said Tamra James, Co-Founder at Ox Enterprises. "We wanted to address the two major issues we kept hearing from the fitness community, size and durability. After testing many samples we settled on what is now the OX Power Band."
OX Enterprises look to find areas of the market that are under served or those that are being served with inferior products, then they develop and manufacture or partner with existing firms to bring new and better solutions to those areas. The founder of Ox Enterprises, the company that created Ox Power Bands, says that sales have taken a dramatic leap since their new video for the exercise bands was released on YouTube.
Fitness advocates, trainers, and weekend warriors are encouraged to LIKE Ox Power Bands Page on Facebook to join the growing community of health and fitness enthusiasts that receive workout tips and ideas.
Amazon shoppers looking for Ox Power Bands can purchase them exclusively through Amazon: http://www.amazon.com/dp/B00KVU8BPA The product retails for $11.99, but for a limited time customers can save 25% by entering code OXPOWER5 at checkout. The bands come with a 100% lifetime no hassle guarantee. If you are not completely satisfied with the bands, you can return them for a full refund. And there's a free lower body exercise routine and handy mesh storage provided on purchase. When you purchase these bands, you can be assured that you have joined a growing club of celebrities and their trainers who are incorporating resistance bands into their exercise routines.
About OX Enterprises:
OX Enterprises is a US based company that works hand in hand with the highest quality manufactures in the US and China to bring the best products to meet the needs of the consumers. It is a nationwide provider of health, fitness, and exercise products and nutritional supplements. At OX Enterprises they are dedicated to bringing the latest, most innovative and most helpful products to consumers to help them meet the needs of their demanding lifestyles. The company seeks to provide products that can add value to the athlete, professional trainer, weekend warrior, cyclists, and anyone who is looking to improve their health and fitness.