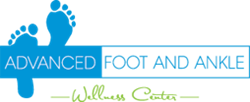 Advanced Foot & Ankle Wellness Center has recently launched its website to better serve the needs of its patients.
King of Prussia, Pennsylvania (PRWEB) June 30, 2015
The podiatry team at Advanced Foot & Ankle Wellness Center is proud to announce the launch of its new online home, specially created to inform patients on their conditions and implement long-lasting remedies as quickly as possible.
The podiatry practice's new website provides information on a wide range of foot and ankle conditions, including plantar fasciitis, fungal toenails, stress fractures, and other painful ailments. In addition, the site will also serve as an online hub of activity for patients to interact with the clinic by scheduling appointments, commenting on blog updates, and providing helpful feedback.
Advanced Foot & Ankle Wellness Center has been recently installed at its new First Avenue location to better serve the needs of its patients. Patients who are suffering heel and arch pain, sports injuries, diabetes complications, and nail and skin issues are often treated in-house, while surgical procedures for bunions, hammertoes, or ingrown nails are typically performed at area hospitals.
The clinic's chief podiatrist Melissa Wawrzynek is a surgically trained foot and ankle specialist. Dr. Wawrzynek has performed several limb lengthening and deformity correction surgeries, and is certified in ankle arthroscopy by the American College of Foot and Ankle Surgeons. She is also specially trained in diabetic wound care prevention and treatment, providing life-saving interventions to injured diabetes patients.
The new website, designed by the content creation and development team at Foster Web Marketing, also offers options for patients to expedite their visits to the clinic. Patients can download forms to complete them at home, find a list of accepted insurance carriers, and can even request an appointment online. To learn more, please visit http://www.kopfootdoctor.com.
About Foster Web Marketing:
Founded in 1998, Foster Web Marketing (FWM) offers attorneys, physicians, and other professionals across North America and overseas an effective online marketing approach that combines appealing and intuitive design with the latest search engine optimization, comprehensive marketing services, and content management strategies. FWM has proven that it is possible to build a "Made in the USA" business with excellent customer service in a very competitive market, all while helping its clients succeed through powerful websites and proven education-based marketing techniques using its proprietary "secret weapon," Dynamic Self-Syndication (DSSTM). To learn more, please visit http://www.FosterWebMarketing.com.