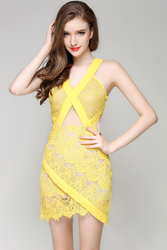 OASAP has an outstanding supply system and extreme versatile styles of clothing options for their customers.
(PRWEB) June 30, 2015
OASAP has established a partnership with famous fashion app Fashion Freax. Fashion Freax is the latest trending fashion app that allows users to explore, capture as well as share every fashion moment in their life. It is mildly popular in Europe region.
OASAP official announces that OASAP will share their versatile inventory with Fashion Freax, so when user browses popular clothing, they can purchase what they like easily and directly on the app. This will be a first for Fashion Freax to collaborate with an online fashion brand.
"While using our app, fashion lovers can create their own fashion notebook, to explore and share the latest fashion trends around the globe," says Mr. Alexander, CEO of Fashion Freax when announcing this collaboration, "The reason of choosing OASAP is to fulfill the need of instant online purchase for our users, OASAP has an outstanding supply system and extreme versatile styles of clothing options for their customers, and yet they manage to somehow keep up with the fashion trends which is constantly changing. I truly admire what they do, and I'm very happy and excited that we get to work with them."
OASAP brand director Mrs. Yuki says: "The usual model for a major fashion related app on the market focuses on picture sharing. Some apps don't provide a landing page for the product like Instagram, some do, like pinterest, but users will have to click on the landing page and go tothe site where the product is selling. Fashion Freax is looking to break that barrier and make their user experience more clear-cut, we are glad to have the opportunity to be part of this."
According to an app news report, Head of OASAP app developing department, Mr Henry states, "Even though the data integration process is big and more complicated than we expected, we still manage to finish this within a month which I think it's a good sign for our future cooperation."
This is not the first time OASAP has put their foot into mobile app market. They released the app for their site back in 2012, and so far they have an app for both IOS and Android platforms. Over 1 million smartphones have installed the app with an average of 100 thousand active members using the app each day.
About OASAP
OASAP IS: A High-street Fashion Online Store
OASAP Likes to: Deliver Fashion & Love!
OASAP is a global online store dedicated to high-street fashion by offering various kinds of women's dress, summer fashion dress, party dress, evening dress, summer outfits, summer bikini, and etc. 
OASAP was founded in late 2011, and has already grown to be the leader of high fashion online stores. We keep updating products at a high rate every day. Now we update more than 300 new products each week. The products mentioned before definitely belong to the latest fashion trend.
OASAP's mission is to get you closer to the planet's most cutting-edge fashion, no matter where you are or what class or age group you are in.
Pursuing fashion is the right of every woman.