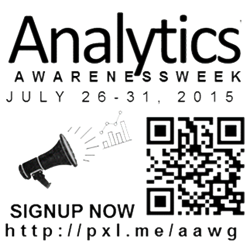 AnalyticsAwarenessWeek will be a huge win-win for everyone involved. We will get to execute on our Vision of "Bring Analytics to the 99% - Vishal Kumar
Boston, MA (PRWEB) June 29, 2015
AnalyticsAwarenessWeek, a weeklong awareness campaign organized by AnalyticsWeek, is meant to bring data analytics businesses and professionals together over one week of online/offline events to celebrate the journey of Analytics and Big Data. AnalyticsAwarenessWeek is scheduled for Aug 24-28, 2015 and is expected to attract more than 150 businesses and about 40,000 data science professionals worldwide.
As data science is becoming more convoluted, so are the tools, techniques and technologies. Talent needs to be made well connected and versed to handle this era of rapid change. AnalyticsAwarenessWeek addresses these opportunities via set of local events and online programming. Each online event is meant to address a specific problem in the current ecosystem.
Via Offline programming, AnalyticsAwarenessWeek will include Gala, Mixer, Open mic and AnalyticsClub@YourCompany series. These events will promote discussions and networking within local data science community. Offline events will bring local businesses and professionals closer and help them connect for better collaborative and networked future. AnalyticsAwarenessWeek local is scheduled to launch in 33 cities across the world. AnalyticsWeek is carefully monitoring and recruiting local leads and businesses to launch AnalyticsAwarenessWeek.
Via online programming, AnalyticsAwarenessWeek will bring together amazing webinars, tweet chat, workshop and slew of online programming to spread awareness on latest and greatest in the world of data science. AnalyticsAwarenessWeek is on target to host more than 200 hours of programming and help connect the right program to right data science communities. AnalyticsWeek is carefully capturing the attendee interests and will use the gained knowledge to create relevant connections during and beyond AnalyticsAwarenessWeek.
Per Sachin Bhate, COO AnalyticsWeek: "We are excited for this opportunity and looking forward to outpouring community support to help make a week of tell and not sell". Also in another statement Vishal Kumar, President AnalyticsWeek suggested: "AnalyticsAwarenessWeek will be a huge win-win for everyone involved. We will get to execute on our Vision of "Bring Analytics to the 99% ". Businesses will get a chance to connect with the best and brightest. Talent will form alliances which will help the community grow."
If interested in contributing content: http://analyticsawarenessweek.com/content-submission-form/
If interested in being a sponsor for the event: http://analyticsawarenessweek.com/sponsor
About:
AnalyticsAwarenessWeek: A weeklong online/offline event to spread the awareness on big data analytics via networking, sharing of knowledge and creating opportunities for the communities.