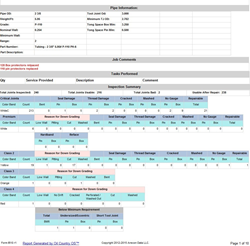 "Pipe Inspector Pro allows energy producers to look at the inspection data comparisons and joint history to determine the cause of the damage and retire the joint of pipe before it results in a downhole failure." Says Jeff Arms, CEO of Arecon Data
Oklahoma City, OK (PRWEB) July 15, 2015
Arecon Data [pronounced are-con], publishers of Oil Country OS, a cloud-based software as a service software for Oilfield supply chain, announced the release of Pipe Inspection Pro, software for Drill Pipe and Oilfield Equipment inspection.
The pipe inspection module of Oil Country OS allows inspectors to perform and track drill pipe, tool and OCTG (casing and tubing) inspections digitally and save the data to a secure cloud-based server. Arecon Data uses Microsoft Azure to host the data. "Azure allows our customers to scale up or down based on their needs," said Jeff Arms, CEO of Arecon Data. "The platform is reliable and secure. It also offers data security and redundancy that many of our customers didn't have." Arecon Data is a Microsoft partner.
Subscribers can use a tablet/laptop and populate the inspection information directly to the inventory sales/work order, making the pipe inspection process, asset management and billing one streamlined workflow. "The inspector enters the inspection results with an easy-to-use interface in the field or yard, which automatically notifies them of failure conditions," said Maria Arms, Vice President of Business Development at Arecon Data. "It saves time, reduces errors and offers a detailed history of damage and repairs that can be easily reviewed and analyzed. It takes the redundancy and guess work out of the pipe inspection process."
Industry Impact
The ability to define where and why the pipe was damaged allows the owner to take possible preventive measures to avoid future damage and lost revenue. More importantly is the cost of personnel and environmental impact. The tarnish to the O&G industry was clearly seen in the April 20, 2010 explosion and sinking of the Deepwater Horizon oil rig in the Gulf of Mexico that killed 11 people.
Status Quo
Today, many pipe inspection results are measured by visual inspection and hardware designed to detect damage and instability. Standard methods are inspecting each pipe for damages and checking or writing comments in a paper log book. Completed inspections are then summarized prior to sending the results to the asset owner stating the measurement of a product's reliability/condition. "The process is redundant and prone to human error, not to mention keeping track of the paperwork," said Maria Arms. "The data can't be analyzed to improve performance and the life of the tool. There is no history and no way to track the lifecycle of the pipe."
Good Timing
Forecasting and budgeting have become extremely difficult in the face of ongoing price volatility and many other uncertainties in the oil sector. The challenging environment has forced companies to look for innovative technologies to maximize costly assets and production. "A string of drill pipe can cost $1.25 million, not to mention personnel and environmental safety," said Maria Arms. "Standard practices and reliable historical data should be a requirement."
Furthermore, the volume and detail of data generated in exploration and production could be put into better use so that the O&G companies can gain value from the same and act upon the insights generated by data produced during exploration and production. Oil Country OS also allows images and additional documentation to be uploaded keeping records for regulatory compliance on the equipment. Because the data is cloud-based, it offers a central point for organization and collaboration between companies. "Pipe Inspector Pro allows the energy producers to access the inspection data comparisons and joint history to determine the cause of the damage and retire the joint of pipe before it results in a downhole failure or extensive repairs," said Jeff Arms. "It takes the joint inspection to the next level by alerting the inspector if the condition does not meet standards."
Positive Customer Impact
Customers have already benefited from deploying Oil Country OS and Pipe Inspector Pro. Several companies located in North Dakota, recently committed to deploying Oil Country OS and Pipe Inspector Pro to all mobile inspection units. Oil Country OS and Pipe Inspector Pro enables the inspectors to document the wall loss, damage and rejects at the rig site and send it directly to the customer while sending the work order to accounting, eliminating billing delays. "Pipe Inspector Pro is easy for our customers to learn and use, allowing them to standardize their practices and gather reliable information. The clean inspection and summary reports are easy to read," said Maria Arms. "Their customers can log into the cloud-based system and see when the pipe was damaged and by whom with the comparison reports," said Maria. "As much, expensive drill pipe is retired when it could be repaired and safely put back into production. It saves money, giving our customers a clear competitive edge."
Pipe Inspector Pro Availability
Pipe Inspector Pro is a module in Oil Country OS, software for upstream Oil and Gas supply chain management. Oil Country OS is a monthly user subscription cost of $249.95, in addition Pipe Inspector Pro is a subscription cost of $2,500 per month. Founded in 1998, in Norman, OK, Arecon Data is the leader in Tubular Supply Chain Software for upstream O&G Exploration and Production.