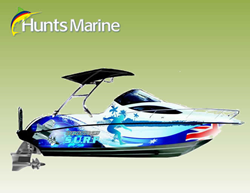 WHITTLEY S.U.R.F. Cruiser 24-7 unrivalled in its class."
Sydney, NSW (PRWEB) June 30, 2015
The Whittley 2015 S.U.R.F. Cruiser 24-7 concept is being unveiled at the Melbourne International Boat Show on 12 June 2015 and what a boat it is.
The good news for NSW boaties is that Hunts Marine of Sydney, Wollongong and Batemans Bay will be leading the way in NSW with these boats being available for inspection and purchase now.
"We are very excited about this new boat and drive support system. We have no doubt that it is by far the best overall package available in the sports cruiser market," announced Hunts Marine Director Jon Hunt.
"What Whittley did was start with a drive system, discuss the needs and aspirations of sports cruiser enthusiasts and started from scratch to build the boating platform not just to suit but to ensure that the final package delivered a completed package for the sports cruiser devotee," said Jon.
The engine partner for the S.U.R.F. Cruiser 24-7 is Volvo Penta's revolutionary surf-focussed Forward Drive which was developed especially for tow sports enthusiasts.
"The normal course of events would be then to add to the engine, perhaps with some modifications, an existing bowrider hull package but not Whittleys," added Jon "they conducted research and came up with a package that we believe is unmatched today."
The Whittley S.U.R.F. cruiser 24/7 is a trail-able, live-aboard wake-surf boat that sleeps a family of five and is totally self-sufficient yet connects to the outside world in a way that no other boat does.
The concept capitalises on Whittley's experience in crafting compact yet spacious sports cruisers and benefits from Whittley's knowledge gained honing the award winning range of ski and wake craft under the "Spy Boats" banner.
Jon went on to say "The S.U.R.F.cruiser 24-7 is a world first concept that is ready for action 24 hours a day, 7 days a week and 365 days a year."
"It employs the latest technological developments blended with seven decades of boat building experience and Volvo Penta's revolutionary FORWARD DRIVE with IPS-derived forward facing Duoprops is what makes it all a reality."
"What a package - A stern-drive, surf-focussed wake maker when you want it wild and a refined sporty cruiser when you prefer it mild - the stuff of dreams." Jon said.
In concluding Jon said "Performance matched with looks and features which make S.U.R.F. cruiser 24-7 unrivalled in its class."
These features include:
# Volvo Penta 8" full-colour touch enabled Glass Cockpit. Fly by wire throttle which integrates seamlessly giving finger-tip control of all the boats vital functions.
# An aggressive forward-facing Big Air "Cuda" tower with speaker and light bar.
# An inviting interior with all the luxuries and amenities.
# A fully equipped galley with cooktop, sink and refrigerator capped with carbon fibre-look lids.
# A custom vinyl-trimmed Crash Pad with bunks that convert to an expansive double bed with discrete toilet.
# A generous boarding platform with utility bar creates a great preparation space for boarders and features lighting and a flush-mounted shower.
# Quality Craft installed the integrated convertible bimini that enhances the boats curvaceous lines and also incorporates a removable rear awning and camper back for extended adventures afloat.
# And to top it all off, the drama is enhanced with a custom wrap from John Evans and the team at Racepaint."
Hunts Marine is one of New South Wales oldest and most respected marine dealerships. The family business was established in 1946 and has traded continuously since that date. In addition to the original Blakehurst dealership Hunts Marine has dealerships in Wollongong and Batemans Bay.