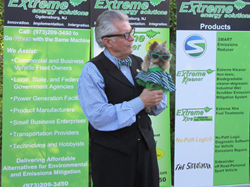 Ogdensburg, New Jersey (PRWEB) June 29, 2015
Elly McGuire, author of "Schmitty The Weather Dog: Daydream," Meteorologist Ron Trotta, and Schmitty The Weather Dog, have teamed up with the up and coming green tech company, Extreme Energy Solutions, Inc., located in Ogdensburg, New Jersey, to help promote healthier and more environmentally friendly choices in the hopes of bringing green technology awareness to the classrooms of children.
Together Extreme and the Schmitty the Weather Dog Team will begin their journey in encouraging both school administrators and children to consider more sustainable green products that end up in use in the classroom. The first stop on their list is the National Association of Elementary School Principles (NAESP) convention in Long Beach California, June 30 through July 2, 2015.
At the conference, Schmitty the Weather Dog and Meteorologist Ron Trotta will be the official weather team and headline entertainment where thousands are expected to attend. Extreme Energy Solutions product, Extreme Kleaner, a non-toxic, biodegradable multi-purpose cleaner-degreaser, is their sponsor.
"We are glad to have Extreme Kleaner aboard," claimed Trotta, "the product works great, it's safe for pets, kids and the environment, and the company's mission to offer products and services that help serve humanity are very much in line with our beliefs in conservation and sustainability."
"The product, Extreme Kleaner, is crazy good, and I would only partner with a product and a company that is safe for the planet and my two-legged and four-legged family," added McGuire
When asked about what she thought about Extreme Kleaner, Schmitty the Weather Dog responded by giving it a four paws up.
Schmitty the Weather Dog, accompanied by McGuire and Trotta, have been at the center of over 60 elementary school assemblies this year, promoting STEM, the study of science, technology, engineering and math, through the use of their entertaining literacy and music program. Team Schmitty The Weather Dog has been coast to coast, bringing their program to schools throughout New York City, Los Angeles, Connecticut, Rhode Island, Massachusetts, Pennsylvania, and New Jersey.
At the end of each assembly, author Elly teaches about respect for animals and gives each student the opportunity to meet Schmitty The Weather Dog. Through corporate and private sponsors, student usually walk away with their very own copy of the "Schmitty the Weather Dog: Daydream" book.
"Science and math are at the core of green technologies, and we feel it is important to help foster younger generation's educational experience with information that will not only get them excited about preserving the environment, but also excited about the opportunities and possible career choices that may be available to them in the future," contributed Samuel K. Burlum, CEO and President of Extreme Energy Solutions, Inc.
"We are proud to support Schmitty the Weather Dog and their team on their endeavors in and out of the classroom."
Meteorologist Ron Trotta, who has the distinction of being a three time World Champion Ragtime Pianist, has worked for ABC World News, and since then has partnered with Schmitty the Weather Dog and author Elly McGuire to inspire and excite children across America to study STEM subjects.
Elly McGuire, the author of "Schmitty the Weather Dog:Daydream," has always taken time from her impressive career to help many causes like the Firefighters Association Scholarship Fund, as well as Angel On A Leash and many small animal shelters across the country. McGuire, along with Schmitty have been guests on the "Ellen DeGeneres Show" and "Access Hollywood."
Schmitty has also shared the stage in New York's Central Park with Oprah and will be the "cover dog" on this summer's issue of Hamptons Pet magazine. When Schmitty is not giving a "pawcast" posted on the Schmitty the Weather Dog You Tube Channel, you can find her visiting schools locally and nationally bringing the message of the great opportunities that STEM subjects have to offer.
Schmitty the Weather Dog and Extreme Kleaner will continue to provide updates on its social media pages. More information about Schmitty the Weather Dog and Extreme Kleaner can be found at http://www.schmittytheweatherdog.com and at http://www.ExtremeKleaner.com