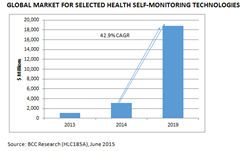 The global market for selected health self-monitoring technologies is expected to reach $18.8 billion in 2019.
Wellesley, Mass. (PRWEB) June 29, 2015
Mobile device users who downloaded at least one health-related application onto their smartphone doubled between 2011 and 2012. BCC Research reveals in its new report that as health applications become more user friendly and cellular technologies expand their reach to increasingly remote populations, this trend will accelerate, helping to driving unprecedented growth in the global health self-monitoring markets.
The global market for selected health self-monitoring technologies reached $1.1 billion and nearly $3.2 billion in 2013 and 2014, respectively. This market is forecast to grow at a compound annual growth rate (CAGR) of 42.9% to reach $18.8 billion in 2019.
The present report focuses specifically on technologies that enable the individual to monitor his or her own health. These technologies include wristbands, smartwatches and other peripherals, mobile self-monitoring software applications, smartphones and other mobile "hub" devices that collect data from peripherals as well as their own onboard sensors.
The current, early generation of self-monitoring tools enables users to monitor and record details of their daily activity, from counting steps or miles walked, and floors climbed, to monitoring calorie consumption, as well daily patterns and hours of sleep. Future developments will expand the range of physiological variables that can be self-monitored and enhance the usefulness of the data thus collected.
"About 21 million individuals globally used their smartphones for self-monitoring their health in 2013. Approximately 17 million (81%) of these individuals lived in the U.S., while the remaining 4 million (19%) lived in other countries," says BCC research analyst Andrew McWilliams. "The number of U.S. smartphone self-trackers is expected to grow at a CAGR of 27.9% (from 2014 to 2019). The number of smartphone self-trackers in other countries is expected to grow from 6.3 million in 2014 to 60.6 million in 2019, with a CAGR of 57.3%."
Health Self-Monitoring: Technologies and Global Markets (HLC185A) analyzes the global markets and technologies for health self-monitoring, with trend and data reports and projections of CAGRs through 2019.
Editors and reporters who wish to speak with the analyst should contact Steven Cumming at steven.cumming(at)bccresearch(dot)com.
About BCC Research
BCC Research publishes market research reports that make organizations worldwide more profitable with intelligence that drives smart business decisions. These reports cover today's major industrial and technology sectors, including emerging markets. For more than 40 years we've helped customers identify new market opportunities with accurate and reliable data and insight, including market sizing, forecasting, industry overviews, and identification of significant trends and key market participants. We partner with analysts who are experts in specific areas of industry and technology, providing unbiased measurements and assessments of global markets. Recently selected as the world's greatest market research company, BCC Research is a unit of Eli Global, LLC. Visit our website at http://www.bccresearch.com. Contact us: (+1) 781-489-7301 (U.S. Eastern time), or email information(at)bccresearch(dot)com.