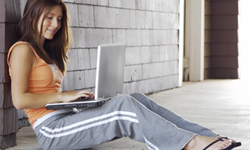 We are delighted to be able to offer our personal trainer courses to people on an online only basis. This is a big leap for the fitness education industry.
London (PRWEB UK) 1 July 2015
Discovery Learning, a provider of vocational training courses to the UK health and fitness industry, has become the first training provider of its kind to be able to deliver its gym instructor courses and personal trainer courses entirely online.
Aspiring fitness professionals who purchase training from Discovery will now have the option of doing their courses entirely online, from home, in their own time.
This service is expected to be extremely popular with people in isolated locations or abroad, as well as people who have time constraints due to work or childcare commitments, and people who just prefer doing things from home when possible.
This is accomplished by the use of Discovery's Student Zone, a high-tech online learning platform accessible only to Discovery students that contains tutorials, manuals, videos, and all the other course materials required to learn the knowledge and skills needed to become a gym instructor or personal trainer.
When students feel that they have spent enough time assimilating the course material, they can request a final assessment that will be given via a webcam feed. Discovery have a 98% pass rate across all their courses, but in the even a student does not pass their assessment the first time, they will be allowed to resist as many times as they need in order to pass.
All Discovery courses are accredited by the UK awarding body YMCA Awards, meaning these qualifications will be recognized by employers anywhere in the fitness industry in the UK and any other country that is a member of the International Confederation of Registers of Exercise Professionals (ICREPs). These include Ireland, Australia, and many countries in Europe and Asia.
In order to become a personal trainer in the United Kingdom, one must obtain a Level 2 Gym Instructor Certificate and a Level 3 Personal Trainer Diploma. Discovery provide these courses individually or together, meaning students that already have the level 2 award can progress immediately to the level 3 course, and students that have neither can obtain both at once in a combined course package.
Students also have the benefit of a student support team that is available by phone, Skype or email on all working days to guide students in using the online Student Zone, studying the material, and preparing for the final assessment.
Discovery also guarantee that every student who successfully completes a personal trainer course will get at least one job interview with a UK fitness club.