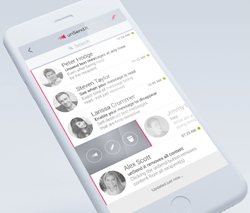 Baltimore, MD (PRWEB) June 29, 2015
Soon to be available on both iOS & Android devices, 'Unsend It' will be the world's first mobile app where users can unsend or edit sent text messages from the recipient's mobile phone – at ANY time - even if the recipient doesn't have the app installed.
As of today, unSend.it is known for unsending, editing & tracking sent email (compatible with virtually any email client including Gmail, Outlook & Apple Mail).
"We're combining the proven technology of our unSend.it email service with our developing functionality of unsending text messages (SMS) - all in one app that will be called "Unsend It". Users will have the option to unsend or edit both text messages and email" says company spokesperson.
Unlike regular SMS text messaging, the 'Unsend It' app will feature the following capabilities:

See when your text message is read by the recipient (not just received by their phone but actually read/opened)
Unsend or edit sent text messages at any time – even after being read by the recipient.
Self-destruct text messages for time-sensitive material
Send, unsend & edit text messages from your mobile device or on desktop with our in-development Google Chrome extension
Signup to become a beta user at http://unSend.it/App for either iOS or Android devices.